Reviews
A Wolf at the Door | Review
Suffer the Children: Coimbra's Dark Debut is an Affair to Remember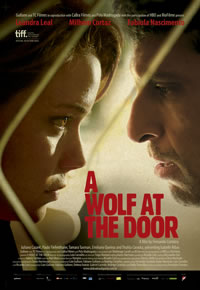 Kidnapping and abduction often make for unsettling cinematic subjects, especially when involving small children. The directorial debut of Brazilian filmmaker Fernando Coimbra is no exception to that tradition, but his tale is laced with tragic elements that make his film a bit more memorable. In fact, the kidnapping that seems at first central to the film's narrative takes a backseat to the warped triangle of entanglement that unfolds in reverse order. The film recalls a famous Greek tragedy from Euripides, of which Coimbra has claimed to be the influence for A Wolf at the Door. To dig further into discussion of that particular text may give too much away, as the emotional impact of the film seems more surprising when approached cold.
Sylvia (Fabiula Nascimento) goes to pick up her daughter from school only to find her daughter to be missing. The teacher claims she'd received a call from Sylvia authorizing a neighbor to come collect the girl. It's clear that the child has been abducted, but by whom or for what is unclear since the family is poor. The police question Sylvia and her husband Bernardo (Milhelm Cortaz) separately, and soon we pick up on hints that both parents are engaged in extra-marital affairs, leading to some awkward truths. Bernardo is convinced his ex-mistress Rosa (Leandra Leal) is responsible, but she denies involvement until the school teacher identifies Rosa as the woman that retrieved the child. Rosa offers to tell the truth about her story and we set off on a path of differing perspectives.
Though there are a slew of English language titles consumed with missing children, A Wolf at the Door at first brings to mind a pair of recent titles from India, Anurag Kashyap's Ugly and Richie Mehta's Siddharth, in that children have been taken or disappear precisely due to the faults of adult action. Both those references are wildly different in aim and tone, but children are used as pawns in these three scenarios. As Coimbra unfolds his, we begin to see an unsettling scenario develop, and of course, we are led to conclude that hell indeed hath no fury like a woman scorned. Navigating through a thorny scenario that first seems as if its husband and wife were both pursuing extra marital affairs, it becomes clear that the machinations of one party in particular have orchestrated this as an extravagant ruse.
The film begins to feel akin to the famed 1987 title Fatal Attraction, and like that film, the other woman begins to take over the narrative. Leandra Leal gives a sympathetic performance as a love-struck young woman, whose passions inevitably turn to madness. Her romance with Bernardo begins to feel like a way to escape her glum existence, but he begins to withdraw, becoming abusive when she reveals she is pregnant. This results in an incredibly uncomfortable visit to a clinic that seems to be the breaking point. Rosa's erratic behavior gets fascinatingly unhinged when she begins a friendship with Bernardo's wife. Leal is superb in a sequence where Sylvia reveals that Bernardo began being sexual again with her, crediting Rosa as the presence that's made everything feel different. We see Rosa in rigid turmoil here as she pauses a bit too long to respond to the clueless woman.
Passion, sexuality, and social sanctions converge into a perfect storm of overriding emotion for the young woman. By the time we get to its final frames, A Wolf at the Door has made good on its foreboding title, and announces Coimbra as an exciting new director to watch for.
★★★½/☆☆☆☆☆