Sing the Body Apoplectic: Giannoli Pays Thanks to the Music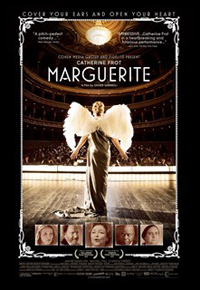 French director Xavier Giannoli borrows an obscure piece of American pop culture for his latest feature, Marguerite, a 1920s Parisian high society dramedy based loosely on the life and career of New England socialite Florence Foster Jenkins. Oblivious to her glaring lack of talent, the wealthy soprano was the source of rampant ridicule, her folly reaching an unmitigated apotheosis following a sold-out Carnegie Hall performance in an instance of truth being stranger than fiction. Resting beautifully on the masterful shoulders of Catherine Frot, an oft-Cesar nominated actress who hasn't had the deserving international acclaim she's due, the film's success hinges delicately on her performance, even with a cadre of supporting players otherwise subjugated to empathetic cliché or predictably reprehensible conduct.
Marguerite Dumont (Frot) has staged a benefit concert at her home, a sprawling chateau outside of Paris. A young, poor soprano (Christa Theret) meets a vivacious music critic (Sylvain Dieuaide) and his political artist friend (Aubrey Fenoy), prior to the event, all three newcomers to the Dumont social circle. As their host delivers an impassioned rendition of the Queen of the Night aria, they become privy to a continually hushed secret about Marguerite—she's an atrociously appalling singer. Except no one, including her husband (Andre Marcon) has ever told her. After the journalist publishes an unjustified critique of the performance, Marguerite, with the help of her staunchly supportive chauffeur (Denis Mpunga), hires a notable voice coach (Michel Fau) and prepares herself for a grand concert in the heart of Paris.
Giannoli continues a quiet fascination with downtrodden or accidental celebrities, as Frot's endearing chanteuse shares a common thread with characters featured in 2012's reality star examination Superstar, and the faded lounge singer portrayed by Gerard Depardieu in 2006's The Singer (which competed in Cannes). What's so impressive about Marguerite is the beguiling credulity with which it handles it central character, a woman who could so easily be portrayed as either a punchline or an obnoxious shrew. Instead, Frot's graceful characterization imbues Marguerite with a unique appeal, and it's as easy to understand the attraction of Sylvain Dieuaide as her admirer as it is her husband Andre Marcon's frustration and disdain. And yet Marguerite is simply a victim of her own circumstance, tucked away in a lofty bubble surrounded by people who don't love her enough to tell her the truth.
In a continuing age of celebrities who sorely lack the talents defining their careers, it's a completely understandable scenario when considering the particulars. Frot's Marguerite is as charming as she is baffling, and it's exactly this conflict which elevates the possibilities of Giannoli's film.
With a running time extending two hours, one wonders if some of the minor supporting characters couldn't have been excised completely, particularly a romantic subplot involving Lucien and Christa Theret as a provincial singer who actually has talent (instead, a better developed Astrid Whettnall as a sympathetic mistress could have been a better use of screen time). Eventually, Marguerite's situation seems to have been born from a vicious cycle of miscommunication with her husband, a man who lives a current lie in order to enjoy his wife's considerable fortune. But then Giannoli doesn't gives us easy answers here either as George may indeed have some feeling for his warbling wife, after all, while her zeal for performing seems to have been born from her wish to arouse his attentions.
Following its demure premiere in competition at the 2015 Venice Film Festival, Marguerite swept up a whopping eleven nominations at the Cesar Awards, taking home four, including a second win for Frot, breaking a three year hiatus from 2012's Haute Cuisine. The awards glory should hopefully restore relevancy to Giannoli's film since Stephen Frears will unleash his own Meryl Streep headlined treatment later this year with the modestly titled Florence Foster Jenkins.
Impeccably designed (the film also won Pierre-Jean Larroque a Cesar for Best Costume, a Best Set Decoration award for Martin Kurel and Best Sound for Francois Musy and Gabriel Hafner), Marguerite isn't exactly flawless, but it is perhaps Giannoli's most accomplished title to date. The tense lead up to Frot's extensive preening for her grand concert (providing Michel Fau with most of the film's comic relief as a bitter has-been whose secret sexual orientation finds him blackmailed into being a voice coach) leads to a rather exquisite send-off, where the swan-winged singer takes to the stage for one accidentally sublime minute of sound.
Side-stepping the mean-spirited possibilities of portraying such a screwy figure, Giannoli crafts an appealing portrait and has the good sense to neither lionize nor demonize the wealthy socialite. With a little luck, Catherine Frot can stake out a greater international niche before being overshadowed by the eventual Meryl Streep version of events.
★★★½/☆☆☆☆☆