Runner | 2022 Toronto Intl. Film Festival Review
Making Room: Mathias Unfolds The Fleeting Moments of a Relationship in Elegant Debut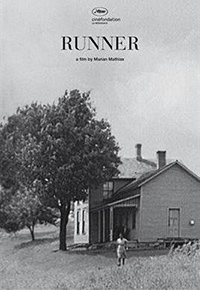 Amidst the unsparing and barren landscape of a Midwestern winter, delicate tendrils of human connection take hold in Marian Mathias' elegiac feature debut Runner. Inside a modest and spartan framework, the filmmaker unfolds the story of two young people on the frontier of adulthood, whose unexpected meeting flickers like lightning on the horizon, and fades like an old photograph whose memory lives on as long as the story isn't forgotten.
A picture that favors atmosphere over narrative, the film is set sometime after World War II, against the bruised autumnal skies of the American Midwest. Living in a rural community in Missouri, eighteen year old Haas (Hannah Schiller) keeps house and watches over her single father Alvin (Jonathan Eisley), a man whose bad reputation, untreated mental illness, and shroud of grief has made them social exiles. She discovers the true depth of the problems he has shouldered when, following Alvin's unexpected death, she learns his debt was so extensive, their home is on the brink of foreclosure, while the real estate opportunity he desperately trying to pitch to investors, was likely a cooked up scam.
As much out of loyalty as obligation, Haas fulfills her father's last request, accompanying his body to Illinois for burial. Trading one barren piece of countryside for another, Haas takes up lodgings in a modest inn after the weather takes a turn and delays the burial for a few days. As she waits for her father's grave to be prepared, she crosses paths with Will (Darren Houle) who, like Hass, is also just passing through and burdened by a painful past.
Falling somewhere between a friendship and budding relationship, Mathias traces their fragile bond through a series of tender and quiet incidents and conversations. From bike rides to idle walks through frosty fields, the barriers they've each put up to the world unthaw, as they both take solace in the reprieve from the rest of their lives which are complicated and uncertain. They even find a song to call their own, Hank Williams' "I Saw The Light." Will explains that he likes to listen to the song in the moments when he's "…coming off of being sad to happy." It's the closest either them gets to articulating what they mean to each other.
While Mathias employs the boxy 1.44:1 aspect ratio, cinematographer Jomo Fray makes it gorgeously spacious. Working with a deep consideration for composition, the film's imagery often feels painterly, evoking the melancholic air of work by Andrew Wyeth and Edward Hopper. Characters are often on the edges of the frame or filmed in medium and wide shots, enveloping them with a vastness that's both expansively gorgeous and utterly lonely. Mathais further emphasizes Haas and Will's isolation by keeping anything resembling civilization off-camera. The only hint of the greater world outside comes with Haas' train ride to Illinois, but even so, with her destination is so remote, there are few in the car with her.
Unspooling with a slight, 76-minute runtime, Mathias' Runner makes the most of that brevity, keeping only its most essential elements in the frame. Each piece of minimal dialogue, every flutter of the score by rising composer Para One (Celine Sciamma's regular collaborator; and 2022's Daughter of Rage), every low ceilinged tavern, and wide open stretch of farmland is invisibly threaded into a cumulative portrait of togetherness forged in the unlikeliest of circumstances. What Haas and Will build together in the short time feels miraculous, like catching the strains of your favorite country song late at night on the FM dial, as a voice from a distant place sings, "I saw the light, I saw the light / No more darkness, no more night / Now I'm so happy, no sorrow in sight / Praise the Lord, I saw the light."
Reviewed on September 11th at the 2022 Toronto International Film Festival – Discovery. 76 Mins.
★★★½/☆☆☆☆☆