Ma Belle, My Beauty | Review
Lover Come Back: Hill's Debut a Refreshing Portrait of Intimacy and Attraction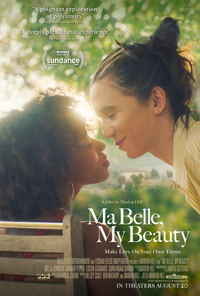 Three may not actually be a crowd, but it certainly heightens complications in the refreshingly welcome debut from Marion Hill, Ma Belle, My Beauty. Straddling continents, cultures and conceptions of what a successful relationship is supposed to look like, it's perhaps the most playful but sobering portrait of polyamory to be examined in English language cinema and at the most interesting starting point of such a union – after it's ended and the dust has settled. But something's been left unsaid, at least as suggested in this tantalizing examination of a thrupple who might have actually been higher functioning when all three members were present.
A surprise reunion in the South of France finds two women forced into reexamining what went wrong without making a concrete statement about the fault in themselves or a relationship structure without support from modern cultural understandings of what they're supposed to look like. It's aching without exaggerated melodrama or heavy handed critique and announces an exciting new cinematic voice in its grappling with characters and scenarios disinterested in having to explain or justify their choices.
Lane (Hannah Pepper) suddenly reappears in the lives of married couple Bertie (Idella Johnson) and Fred (Lucien Guignard), who are living at his family's home in the South of France. Bertie seems immediately uneasy, and it's made clear the three of them had been involved in a polyamorous relationship in New Orleans two years prior. Everything had purportedly been fine until Lane suddenly disappeared. In the interim, Fred and Bertie married, moved to France and commenced on a musical career wherein Bertie's interest in performing began to wane…hence the surprise invitation of Lane thanks to Fred, who needs Bertie to get herself together for their impending tour. At first dancing around the uneasy subject of Lane's disappearance, an intimate gathering finds Lane's tryst with Noa (Sivan Noam Shimon), an artist from Israeli who formerly served as a soldier, reawakening jealousies which allow them to revisit the rift and the potential connection they still share.
Hill's screenplay expertly weaves its way through an enigma quite naturally. Lane's sudden presence in the lives of Bertie and Fred finds immediate tension between the women and we slowly piece together why. Initially, Bertie seems cold and uncompromising towards Lane, invited at the behest of Fred, who seemingly misses the dynamic the three of them shared, and it's suggested the stronger sexual and romantic connection existed between the two women. For reasons not entirely explained, Lane's sudden disappearance caused an irrevocable fissure, but what's left unsaid is perhaps the yearning Lane had to experience Bertie either but simultaneously wasn't mature enough to embark on such a commitment. The thrupple scenario wasn't only her excuse for disappearing but also a safety net to avoid dealing with her own emotions, and it's all teased with such elegant finesse by the time Bertie and Lane address this chasm, it's revealed without a grand exchange or tearful soliloquy but a necessary statement of facts.
Idella Johnson is a real find as Bertie and her character is the most sympathetic and well rounded. Hill takes pains to paint the remnants of what their dynamic look like, with Guignard's Frank more poised as someone who prefers the convenience of offloading Bertie's emotional baggage onto Lane. A playful and pronounced soundtrack assists in keeping everything on the light side and the introduction of a new female love/sex interest for Lane in the form of Noa further teases the jealousies and competition between them—notably, a competition between them which doesn't exist with Frank because he's male. Hill's subtle examinations find the additional complexities which define queer relationships, where two members of the same sex are also often competing in ways heterosexual counterparts are not and exacerbated even further in this scenario with racial and cultural components.
My Belle, My Beauty is about the necessity of goodbyes and the promise of new beginnings as well as the expiation of resentment through truth. Hill leaves us with the sense both Bertie and Lane are headed for an exciting new chapter, one which will likely see them reunite, but also won't continue to hobble them emotionally if not.
Reviewed on January 30th at the (Virtual) 2021 Sundance Film Festival – NEXT Program. 93 Mins.
★★★½/☆☆☆☆☆