Criterion Collection: Adoption (1975) | Blu-ray Review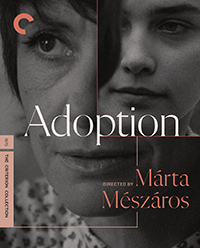 Women face a complex and compounded pressure of perfection when it comes not just to initial reception of their artistic achievements, but also their legacy. Trailblazers are especially eclipsed by an achievement meant to be representative of a whole entire gender, race or culture, relegated to being a foot note or stepping stone for the proliferation of more disparate successes among later generations. One such example is the formidable Hungarian auteur Márta Mészáros, whose oeuvre is deserving of a recuperation.
Besides her celebrated triptych of Diary films in the 1980s, she's best known as the first woman (and Hungarian) to win the Golden Bear at the 1975 Berlin International Film Festival for her quietly moving Adoption, a distinction resurrected in 2017 when fellow countrywoman Ildiko Enyedi took home the same prize for On Body and Soul. Despite this, much of Meszaros' films remain unavailable in the US, despite competing in various major film festivals and directing the likes of Isabelle Huppert (The Inheritance, 1980) and Fanny Ardant (The Seventh Room, 1996). A reclamation of her legacy with this restoration, which returns to the bittersweet story of women which heralded her acclaim, is a fitting gesture.
Kata (Katalin Berek) is a middle-aged factory worker who has decided she must make a drastic move. Having carried on a relationship with a married lover, she decides she must leave him because he refuses to give her the one thing she desires – a child. While he struggles with her decision, Kata becomes involved with Anna (Gyongyver Vigh), a troubled teenager who lives in a nearby orphanage. Kata strikes up a quick friendship with the sixteen-year-old, and soon finds herself lobbying Anna's parents to emancipate the daughter they no longer wish to take care for so she can marry her boyfriend. Her affection for Anna allows Kata to realize the potential emotional reward of adopting her own child.
A quiet, melancholic portrait of a woman aching for a meaningful relationship which has thus far eluded her, much of Adoption feels like a naturalistic survey of 1970s Hungary. Though shot in black and white, the styles and fashions of the era suggest autumnal color patterns in the mind's eye. The tone of the film feels like a documentary feature, and though this was the fifth narrative film from Meszaros, she had previously spent nearly two decades making documentary short films, solidifying an immersive, fly-on-the-wall approach to her subjects.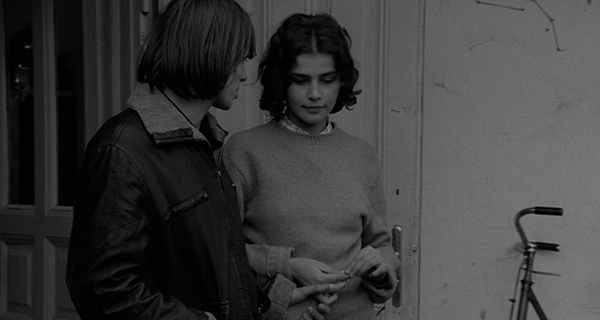 Katalin Berek has a weary, hangdog look about her, and her presence bears a similarity to someone like Annie Girardot (she would be a supporting player in Meszaros' next film, Nine Months). Her illicit romance with her married lover has all but dissipated, allowing for a more interesting relationship forged with the troubled teen Anna, who serves as a catalyst for Kata considering adopting a child on her own. An accidental mentor and life branch for Anna, Kata suddenly seems to find herself through service to someone else.
Meszaros doesn't spell out any of her themes overtly, more so navigating the development of a relationship between two women who bond over a shared sense of desolation and desire for a bond. The power in her narrative is its effortlessness and fragility, channeling a level of intimacy quite difficult to manage without coasting on banalities. It's a story told through expressions, focusing on faces, eye movements and gestures. If it seems there's little happiness in this rather drab, dreary environment, there are small victories for both Anna and Kata, enough to drive them into new phases of their lives, for better or worse, and not without expected travails of marriage and motherhood greeting them both respectively. Even if they're both diving headlong into realities expected of women, both have struggled to carve out a future on their own terms and through their own desire. A final freeze frame of Kata running for the bus clutching her new child to her bosom is both suggestive of the unstoppable motion waiting for her beyond the frame and a distillation of a moment where happiness is at the zenith forged in an elixir of expectation and the unknown.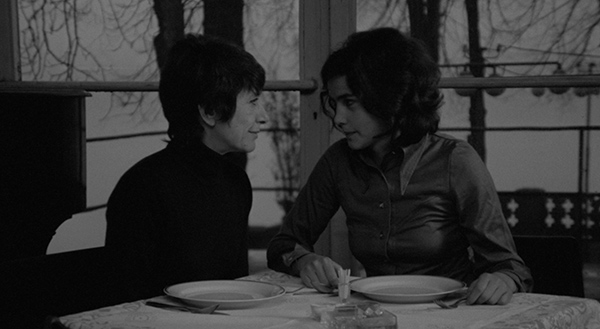 Disc Review:
Criterion presents Adoption as a new 4K digital restoration in 1.85:1 with uncompressed monaural soundtrack. Scholar Catherine Portuges provides a new video essay in the disc's bonus features, including a 2019 interview with Meszaros, a 1979 documentary about the director titled Marta Meszaros: Portrait of the Hungarian Filmmakers, as well as one of her early shorts, Blow-Ball from 1964.
Film Rating: ★★★★/☆☆☆☆☆
Disc Rating: ★★★★/☆☆☆☆☆