Zero Fucks Given (Rien à foutre) | Review
Ground Control: Exarchopoulos Takes Flight in Portrait of Repressed Anguish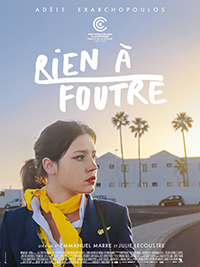 For their directorial debut Zero Fucks Given, Julie Lecoustre and Emmanuel Marre opt for a much less anarchic portrait of working class ennui than their title indicates. Splicing a character portrait with a detailed portrayal of daily travails faced by flight attendants, at times it plays like an exercise at odds with itself. Juxtaposing these two elements, both fight for dominance, with a surprisingly nuanced performance from Adèle Exarchopoulos coming out on top. One of the best roles for the actor following her 2013 breakthrough in Blue is the Warmest Color, the facade of a glamorous, jet-setting existence reveals itself to be a vehicle for escapism. As demeaning experiences accumulate on the job, certain realities she's running from increasingly break through a convenient self-exile from her own emotions.
Cassandre (Exarchopoulos) works as a junior flight attendant at a low cost airline, Wing. Her performance is based on duty free sales, though her level of investment is purely superficial. Although flying throughout Europe and visiting exotic locales, she leads an isolated existence, always goaded into late night excursions and a variety of casual sexual encounters which end only in requisite release. Volunteering to work holidays, it seems she's avoiding her family back in Lanzarote. When her contract is set to expire, she's bamboozled into renewing as a cabin manager. Reluctantly, she takes the position (or else be unemployed), but finds her new responsibilities require an increasing level of corporate kowtowing. The growing stress of workalike scenarios coincides with having to finally face some recent familial trauma, and potentially contending with options for her future.
Although it has the feel of a quasi-documentary, and leans heavily into a staple of French language cinema in its clear eyed observations of working class woes and Sisyphean drudgery, such heavily detailed machinations of corporate cruelty tend to numb. Although it's arguably the point, Zero Fucks Given, which never quite earns the abrasiveness of this title, comes to life through Cassandre's brief appearances of emotionality.
Eventually, it's revealed her mother recently passed away, which of course explains her avoidance of Lanzarote. Sexual needs are fulfilled through Tinder flings, which only moderately satisfy an intimacy she clearly craves. Always on the outside of every scenario, her connections with colleagues are few and far between, though she confesses to dreams of working her way up to earning a home base in Dubai. Eventually, these dreams with Wing are dashed thanks to her kindness for a grieving foreigner on one of her flights as cabin manager. Only her sales numbers speak for her limited viability, and her interchangeability is evident in every interaction with management, who could be classified as Kafkaesque in their cruelty in a different kind of film. Here, the corporate attitude is normalized monstrosity.
One of the film's most interesting sequences is training for cabin managers which requires employees to display an unwavering thirty second smile. Cassandra fails, unable to mask her emotions, receiving the notes of the trainer like a malfunctioning robot. This inability explains the actions which are her undoing, swirled into an opportunity for a private company where "no" is not "part of the universe," and sexual harassment is condoned as part of a necessary expectation. While never sentimental, Zero Fucks Given also feels clinical outside of Cassandra's humanizing moments. Lecoustre and Marre fold actual flight attendants into the fabric of the film, and there's a cold authenticity to these oft-invisible members of customer service workers. Exarchopoulos is constantly compelling and simultaneously striking as the forlorn Cassandra, whose loneliness casts a languid melancholy.
Reviewed on July 11th at the 2021 Cannes Film Festival – Critics' Week. 115 Mins
★★★/☆☆☆☆☆