A Pleasure to Burn: Kurzel Explores the Making of a Murderer in Disturbing Portrait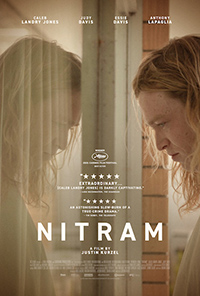 On April 28, 1996, lone gunman Martin Bryant shot and killed 35 people and injured 23 more in Tasmania. The shooting would come to be known as the Port Arthur Massacre, the events of which caused an immediate reform in Australia's gun laws (although it seems the resulting revisions have little effect on the distribution of firearms in the country today). Director Justin Kurzel presents a carefully constructed portrait of Bryant in Nitram, who is never named except for the backwards spelling of his first name, which is what his peers called him in school to make fun of him.
A sinister performance from Caleb Landry Jones and an expert Australian supporting cast bolsters this arthouse horror film (if you go in blind, Kurzel's transportive character work with scribe Shaun Grant allows for this slow burn to build effectively to a crescendo, which at least has the good sense to forego exploitative reenactments of the event). Although Kurzel's recuperation lands after a long line of films reimagining mass shootings, from Gus Van Sant's Elephant (2003) to two recent attempts at the 2011 murders in Oslo and beyond, it's a painfully familiar narrative striving to highlight an odyssey of dehumanization.
Nitram (Caleb Landry Jones) is a social outcast in Port Arthur, Tasmania. Living with his parents (Judy Davis, Anthony LaPaglia), who aren't sure how to handle his behavioral issues outside of antidepressants, Nitram seems hellbent on wreaking havoc with fireworks in the neighborhood while fantasizing about becoming a surfer. His new obsession with obtaining a surfboard leads him to mow lawns for cash, wherein he meets a local hermit, Helen (Essie Davis), who takes a liking to him. Alone with a menagerie of animals on her large estate, a fast bond between the outcasts leads her to buy him a car (despite his lacking a driver's license). Tiring of his mother's constant nagging, he moves in with Helen, a situation which ends tragically. Around the same time, his father's dreams of moving into the dream house they're close to purchasing are dashed, leading to his suicide. With his meager support system compromised, Nitram embarks on a shooting rampage.
Kurzel begins on a 1979 news segment featuring Bryant as a young child, injured from playing with firecrackers but clearly oblivious about any lessons learned. Fast forwarding to his adulthood in the 1990s, wherein the dysfunctional attachment style of his parents seems partially responsible for his behavior, Kurzel never makes an empathetic case for Bryant nor a diagnosis. Based on brief exposition supplied about his childhood, the film leans into making him a sociopath whose extreme amount of red flags went unchecked, pointing to a failure of social systems on every level. But the real trauma begins at home, with the usually stellar Judy Davis recalling the ambivalent mother played by Tilda Swinton in 2011's We Need to Talk About Kevin. A series of unfortunate events, of course, blends into the perfect storm, which Kurzel takes right to the precipice.
Caleb Landry Jones is perfectly cast, adding another social pariah to his prolific filmography of unstable characterizations. There are brief moments of potential salvation in his relationship with Essie Davis, playing a Little Edie/Grey Gardens-style heiress living in dilapidated excess. A faded singer/actor, there are shades of something like Tennessee Williams' Sweet Bird of Youth before it becomes more of a real-life Joker scenario.

Anthony LaPaglia is cast against type as a failed patriarch who has a greater affinity for his son than Bryant's mother. But despite a clear documentation of the potential details which drove him to murder, Kurzel keeps clear of making excuses, and there's a hard-edged coldness, akin to his disturbing 2011 debut Snowtown.
Shot by Germain McMicking (with Kurzel's brother Jed once more providing the score), it's a film of washed out dreams for the Bryant family, who dreamt of owning a beautiful rural property which circumstances denied them. At one end, it's easy to see how if there had been some kind of reprieve from their miserabilism, Port Arthur might never have happened. But Bryant was clearly a man teetering on a dangerous edge, whose actions before the massacre resulted in death. And if it hadn't been him, it would have been another homegrown terrorist.
The importance of the events of Nitram were in how a country responded appropriately. Beyond this, like the events it depicts, it's another film about a mass shooting that was far from the first and clearly far from the last.
Reviewed on July 16th at the 2021 Cannes Film Festival – Main Competition. 112 Mins
★★★/☆☆☆☆☆