Treacherous Journey to The Top Shows Unmeasured Determination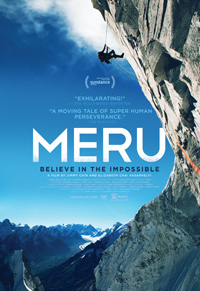 At over 20,000 feet, the highest peak of the Meru Mountain, also known as the Shark's Fin, exists as a monument of nature's boundless capacity and power. For a group of mountain climbers who aspires to be the first to conquer it, the peak exists solely to taunt as a mammoth mark of the unattainable. Following Conrad Anker, Jimmy Chin (the director/producer/cinematographer), and Renan Ozturk, Meru serves as perennial struggle between man and nature and self.
The long-standing partnership between climbers Anker and Chin was cultivated through many years and perilous excursions. The trust required in their life and death situations is rooted in their understanding of each other and the path that they have ultimately chosen for themselves. Their families and loved ones can certainly attest to the fact that the life of a climber is not the easiest path and a continuous source of anxiety and strain. Chin recalls his promise that he made to his mother that he would not die before her. Once she passed, Chin states that there were times where he seriously considered toeing the line to see how far he could push, fully aware of the grave consequence. There is an innate absurdity to place one in such danger and to yield to such proclivities. But as the climbers continue to push past their physical and mental capabilities, they nobly exhibit a measure of determination that transcends the logic that anchors others. As a result, they appropriately reach new heights.
As with many similar ventures, their journey to the Shark's Fin is a perilous one. Along the way, they come across obstacles, which not only discourage their journey but also take a severe toll on them as individuals and as a group. The documentary has the appeal of a traditional conflict narrative with its many valleys and peaks.
Chin's talents as an adventure photographer are apparent as it includes some impressive landscapes. However, it cannot escape the familiarity of this type of story, becoming somewhat long-winded and circuitous. Meru attempts to stand out with a few stylistic shots but ultimately takes the same path as many other similar stories before it. Regardless, it reflects the inner struggle to overcome the limitations that one may have in order to accomplish what others may dub crazy and impossible but also exalting.
Reviewed on January 25th at the 2015 Sundance Film Festival – U.S Documentary Competition
★★½/☆☆☆☆☆