Reviews
People, Places, Things | Review
Here in the Noun: Strouse's Familiar, Charming RomCom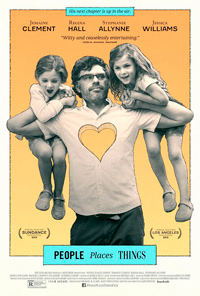 The kids are basically all right in People, Places, Things, director James C. Strouse's third outing as director, but the adult characters are having a much harder time navigating existence after divorce. While a rather standard set of issues are examined, with a slight edge considering this is from the perspective of a jilted father figure, the scribe-helmer continues to display his strengths for creating well-rounded, genuinely effective principal characters. Featuring a flawed yet appealing group of people struggling to overcome unplanned circumstances, this standard but nicely streamlined venture features winning performances. Despite a lack of novelty, Strouse's film stands out in a mix familiar to any purveyors of the glossier side of American indie cinema.
A successful graphic novelist and professor at the School of Visual Arts, Will's (Jemaine Clement) life swiftly unravels when he finds his wife Charlie (Stephanie Allynne) cheating on him with Gary (Michael Chernus). Having been completely oblivious to her unhappiness, he's stunned by her decision to leave him. Taking an apartment in Astoria, he struggles to maintain a stable schedule taking care of his twin girls, Clio and Colette (Gia and Aundrea Gadsby). His students are well aware of his predicament and he's approached by Kat (Jessica Williams) to have dinner at her apartment so he can meet her single mother, Diane (Regina Hall). While their first interaction is marred by awkward posturing and the unavoidable discomfort of introduction, Will and Diane find themselves tentatively navigating a connection. Meanwhile, Charlie is unsure if she made the right decision in leaving the dependable Will.
The most notable element here is the casting of Clement in the dramatic lead, for once showcasing the performer's abilities outside of the comedic realm. We're used to seeing his more ridiculous side, in studio fare like Men in Black 3 (2012) or Muppets Most Wanted (2014) and in his self-directed vampire parody What We Do in the Shadows (2014). So it's a welcome reprieve to see Clement working his charm into otherwise melancholy material, a handful of emotional moments made all the more poignant thanks specifically to his comedic abilities. Likewise, the consistently underrated Regina Hall, a vibrant talent too often overlooked in a string of successful mainstream comedy, proves to be an excellent match for Clement. Sharing an inviting chemistry, they both maintain Strouse's commitment to a genuine nature often missing from these scenarios, where the act of 'entertaining' supersedes logical human characteristics. Jessica Williams as Hall's daughter is also a definite standout in a role we'd normally see maxed out for comedic shortstops.
People, Places, Things suffers through a generalized set-up, wherein the adulterous wife played by Stephanie Allynne is introduced through an awkwardly relayed tryst with Michael Chernus. Because of this, her character is never quite redeemed, relegated to the narrative periphery as the nagging factor we never quite get a sense of other than that she's unhappy and desperate to regain control over her life. The only grace she's afforded is through a poetic explanation from Will when he explains to Diane how they drifted apart.
Will's skills as a graphic artist grant the film some cartoon visuals here and there, the kind that sometimes feel like easy bids to inspire flights of fancy. They're more or less bits of melancholy whimsy here, and while they do not detract, they aren't altogether necessary, either. For what it is, People, Places, Things is a lovely package, deserving of an audience (and maybe even a more memorable title) too used to handfed stereotypes painted with quirky romcom tics.
Reviewed on June 13 at the 2015 Los Angeles Film Festival. Buzz Section. 86 Mins.
★★★/☆☆☆☆☆