Europa, Europa: Honore Eloquently Updates Ovid for Masterful, Playful Adaptation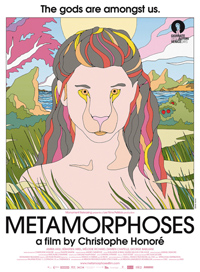 There really isn't a modern counterpart (even if Francois Ozon might come close) for the style and sensibility of director Christophe Honore's Metamorphoses, an adaptation of Ovid's classic text, updated for the 21st century. A director that's long dabbled with his own idiosyncratic interests, generally framed with a clearly queer or alternatively defined set of sexual exploration, he's best known for a pair of delectable musicals, 2007's Les Chansons D'amour (Love Songs) and the less well celebrated Beloved (2011), both playing homage to the musical sensibilities of Jacques Demy. Honore also seems fascinated with classical literature, adapting Madame de la Fayette (La Belle Personne, 2008) and even the provocative Georges Bataille (Ma Mere, 2004). But his latest is a definite departure in style and tone. His first film since his 2002 directorial debut that does not include either of his muses (Louis Garrel and Chiara Mastroianni), his deliberate tone recalls Pasolini's Trilogy of Life, a set of films based on classical literature and also featuring nonprofessional actors.
Opening with a young hunter stumbling upon what appears to be a transgendered woman bathing naked in the woods, he is transformed into a deer and dutifully shot by his hunting partner before the film's swift departure into three segments revolving around the mortal, Europa (Amira Akili). Here, the lass is transformed into a teenager of North African descent living in a suburban housing project with an abusive father and younger brother. The first chapter, Europa and Jupiter (played with a hipster pout by the hirsute Sebastian Hirel) finds her seduced by the king of the gods, who appears to her driving in a long-haul truck. He tells Europa stories of what his jealous wife Juno (Melodie Richard) did to one of his last lovers, Io (Coralie Rouet). Transformed into a cow to fool his wife, the wise Juno sells the cow to Argus (Vincent Massimino), a monster with one hundred eyes. Jupiter dispatches his son Mercury to (Nadir Sonmez) to save her.
Europa seems unphased by the threat of Juno, consummating her passion for Jupiter, claiming he's saving her from a worse fate back home anyway. She's also treated to a host of other interweaving narratives, including the sad tale of Narcissus (Arthur Jacquin) and that of the prophet Tiresias (Rachid O.), here a transgendered doctor that is consulted by Jupiter and Juno concerning which gender is more capable of greater sexual pleasure. Tiresias claims it is woman, which angers Juno, leading her to blind him. Next, Europa has an interlude with Bacchus (Damien Chapelle), the most fearsome yet sweet hearted god, who tells her the story of Hermaphrodite. They are interrupted by Orpheus (George Babluani of 13 Tzameti, 2005), and his sad group of followers, which Europa joins in the third part of the film.
Premiering at the Venice Film Festival (Venice Days), and rolling out among a handful of other festivals since, interest in Metamorphoses appears to be slim thus far. Those unfamiliar with its source text may find it hard to understand, but any familiarity with Greek and Roman mythology would be beneficial. Playful, magical, and charming with its uncomplicated and austere use of special effects, Honore concocts a sparse cinematic design out of Ovid's poetry that's not only bold, but intelligent and inventive. The mostly nonprofessional cast lends the film a rather organic, sobering quality amidst its moments of magical realism, like a beautiful sequence where Juno picks out the eyeballs from Argos' corpse, throwing them up into the air where they assemble into her favored emblem, the peacock fan.
Jupiter descends on Europa with all the semblance of a handsome serial killer, a selfish deity out merely for his own pleasure, barely sympathetic for all those his wife maims thanks to his casual whims. The argument concerning which gender has more sexual pleasure is initially amusing. "Don't you have other worries?" Juno chastises. Also, much like Pasolini's Trilogy, the nude human form, particularly that of the young male, is frequently and unabashedly on display. Ovid's quote "My design leads me to speak of forms changed into new bodies," seems a clue to Honore's overarching theme to a film and a text too multifaceted to adhere to any strict definitions.
Yet Metamorphoses hails the fluidity of our natures, emotions, and other facets of human existence that have been too long repressed by adherence to labels and strict definitions (Bertrand Bonello's 2003 film Tiresia also explores transgendered forms inspired by Greek mythology). Even the human form has the ability to transform and morph, as does a tradition of cinema that Honore's Metamorphoses recalls, representative of a bygone era when experimentation in form was more commonly embraced.
Reviewed on March 12 at the 2015 Rendezvous w/French Cinema at Film Society Lincoln Center – 102 Mins.
★★★★/☆☆☆☆☆
Nicholas Bell
Los Angeles based Nicholas Bell is IONCINEMA.com's Chief Film Critic and covers film festivals such as Sundance, Berlin, Cannes and TIFF. He is part of the critic groups on Rotten Tomatoes, The Los Angeles Film Critics Association (LAFCA), the Online Film Critics Society (OFCS) and GALECA. His top 3 for 2021: France (Bruno Dumont), Passing (Rebecca Hall) and Nightmare Alley (Guillermo Del Toro). He was a jury member at the 2019 Cleveland International Film Festival.