Gray is the Cruelest Color: Kazda and Weinreb Resurrect a Murderess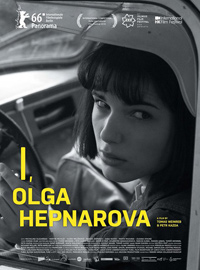 Unlike the hopeful social realism angle of the comparably titled Palme d'Or winning I, Daniel Blake from Ken Loach, the debut film from Petr Kazda and Tomas Weinreb (who also penned the screenplay) I, Olga Hepnarova casts itself headlong into the mire of miserablism in its resurrection of an early 1970s mass murderer from the Czech Republic. On July 10, 1973, the twenty-two year old eponymous young woman drove her truck into a group of twenty plus people waiting for a tram, killing eight of them. To rationalize her actions, Hepnarova famously explained the act was a conscious plot against a society of bullies, punishing humanity as a whole for its callous dismissal for the disenfranchised and demeaned. Both her actions and the elucidation of them are strikingly prescient considering contemporary illumination regarding the effects of bullying, as well as the method of her maiming (of which recent incidents in both Nice and Berlin both mirror). While Kazda and Weinreb convey a sound psychological portrait of a distressed mind, this downtrodden character study, despite a fine lead performance, often feels slave to its own misery, a bleak bildungsroman of emotional degradation and destitution, which manages to dishearten rather than castigate or even dramatize.
Born in 1951 Prague to working class Czech parents, Olga Hepnarova (Michalina Olszanska) is a desperately unhappy teenager who is teased and taunted by her peers and given the cold shoulder by her emotionally distant mother (Klara Meliskova). At the age of thirteen, an attempted suicide by overdose landed her in the psychiatric ward of a hospital where she finds herself abused by other patients. Increasingly misunderstood, Hepnarova retreats inside herself. The realization of her homosexuality revives her for a brief period in young adulthood, emancipated from her parents and supporting herself as a truck driver. Eventually, a string of failed romances only further alienates her, leading her to act on vengeful, murderous fantasies of punishing society at large for torturing, and abandoning her.
As Olga, Polish actress Michalina Olszanska (one of the sibling sirens of Agnieszka Smoczynska's recent The Lure) is formidably morose, a troubled beauty so bitter and rebellious the film often careens into black comedy. If Natalie Portman's Mathilda from The Professional were to have a Euro art-house Jane Eyre styled prequel in this vein of the tortured orphan beauty, she wouldn't be too far removed from the awkward adolescence of Hepnarova, a fiercely intelligent and articulate mind who, like the pretentiously dehumanized Leopold and Loeb, decided to build a macabre political statement on the bones of human bodies.
After several failed relationships with other women, she consults a physician about the responsibility of the Communist party regarding matters of her love life, requesting official assistance in selecting a female mate. However, this is Olga on perhaps her most hopeful note, knowing full well the system which has failed her catastrophically in the past has no interest in staking a claim on her romantic livelihood. While her own real happiness, at least according to the film, seems to have transpired in her fleeting love affairs (which receive their own notably steamy reenactments here), the only palpable energy occurs between Olszanska and Klara Meliskova as the stern mama who dismissively inform her wayward daughter doesn't have the guts to commit suicide.
A rebel of the status quo, it's grueling to watch Olga's talent and intelligence gnarled into a perpetual dark side, and since her actual psychological state is never truly defined, this murky conjecture hobbles empathy and understanding of her (the suggestion of her possible schizophrenia also aggravates her staunch conviction, teased heavily prior to her death by short-drop hanging). Earning comparisons to Pawel Pawlikowski's Ida (2013) thanks to DP Adam Sikora's (Skolimowski's Four Nights with Anna and Essential Killing) velvety black and white cinematography, the mise-en-scene conjures a troubling period of stagnancy and cruelty, and yet, the energy of I, Olga Hepnarova never builds to the same shrieky energy which drove the troubled woman to such a grisly denouement.
★★½/☆☆☆☆☆