Mifune: The Last Samurai | Review
The Hidden Mifune: Docu on Japanese Legend Hits Highs and Lows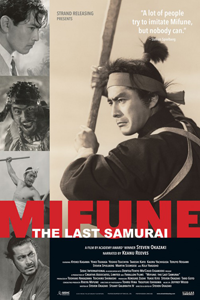 The half century on-screen career of Toshirô Mifune is one of extravagant grace, pursuing a form of emotionally raw and realistic acting that would come to shape the world of all subsequent generations of cinematic artists. Though there are no credible disputes over the ability and range of Mifune's talent, the representation of him as an artist and a human being is rather lacking from this documentary. Co-written by Stuart Galbraith and helmed by Steven Okazaki, Mifune: The Last Samurai handles its complex titular subject in a more inquisitive nature rather than an illuminated stance.
The journey that is Mifune is rooted in his birth and childhood in Japanese-occupied China, his drafting into World War II to instruct kamikaze pilots, many children, and his involvement in the growing post-war Japanese cinema to the modern day. However, Okazaki begins even further back with the foundations of Japanese moviemaking by way of Kabuki Theatre and the culture that was dominant in Japan from its feudal ages into World War II. This portion is segmented in a compelling manner, utilizing music, camera moves, and rapid but purposeful editing that could pass for being chosen directly by Akira Kurosawa (who plays an almost equal part in this doc's story as does Mifune). However, though the start of the film is heavily stylized, its momentum and presentation morphs into a slow-paced Ken Burns like treatment or even a Mark Cousins' type approach – Cousins featured Mifune and Kurosowa's professional relationship in The Story of Film: An Odyssey (2011).
The narration supplied by Keanu Reeves is direct and seemingly driven by personal respect and adoration over and beyond the material he was reciting, which offers intense perspective into the life of one of Japan's most prized movie stars. However, the narration is inconsistent, it plugs more holes in the interview footage than further add depth to the outline. That isn't to say that the anecdotes and opinions given by Mifune's son Shirô Mifune, actors such as Kyôko Kagawa, fight choreographers like Kanzô Uni, and prominent filmmakers like Steven Spielberg and Martin Scorsese don't resonate, but it underlines a lack of tonal focus. So many of the participating interviews reinforce the doc's central core: Mifune's passion and uniqueness in his emotive power and empathy.
From immersive and mesmeric to somewhat stagnant, the production is enhanced by the first-time composer Jeffrey Wood's film score. Not only absolutely appropriate and complimentary to the photos, footage and stories being told, the select compositions in segments of Mifune's works is perfectly synched.
An intriguing work with combined premises worthy of a series of documentaries, but ultimately the doc's structure and its point of view focuses more on the emotional and creative impact of Mifune's talents and personality rather than the full comprehensive history of the man. The value in Mifune: The Last Samurai is that it's the most complete Toshirô Mifune documentary currently out there.
★★½/☆☆☆☆☆