That'll Do, Pig: Joon-ho's Latest Creature Feature Gets Stuck on Itself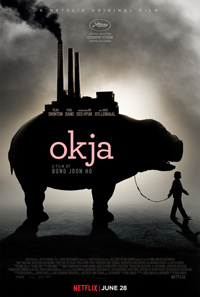 Following 2014's post-apocalyptic microcosm Snowpiercer, South Korean auteur Bong Joon-ho returns to familiar territory with Okja, a creature feature in rye comparable mold of 2006's The Host. Instead of a family united as they combat a creepy crawly monster, Joon-ho goes for a more traditional environment with his latest, so named for a titular pig bred exclusively in response to massive global foot shortages, whose attachment to a resilient little girl provides the film with its dramatic thrust.
Featuring a notable international cast as it spans South Korea to New York City (including the return of Tilda Swinton, here appearing on double duty), Joon-ho's latest sags underneath the weight of its expectations as well as the considerable special effects driven cuddly creature, zig-zagging between moments of quirky merriment speckled with social commentary and then crash landing into an irreverent finale soured by its own inevitability.
In 2007, Lucy Mirando (Tilda Swinton) has assumed command of her father's infamous multinational conglomerate, announcing an idiosyncratic solution to eradicate world hunger with a ten year plan. After discovering a new breed of pig on a Chilean farm, coined a 'super pig,' an animal which has the capability to reduce hunger due to its unique characteristics, she has sent twenty-six piglets to countries around the world where her corporation exists. In ten years, there will be a contest and a prize for the largest pig.
In 2017 South Korea, preadolescent Mija (An Seo Hyun) has cared for her pig Okja alongside her father, roaming free on the privacy of an isolated mountaintop. When Dr. Johnny Wilcox (Jake Gyllenhaal), famed television personality and the face of Mirando, comes to collect her companion, Mija commits to rescuing her, and finds unexpected help in the form of an animal rights group led by Jay (Paul Dano).
Tonal problems are evident from the opening moments, injecting us directly into the zany heights of Tilda Swinton's Lucy Mirando, a platinum blonde maven giving a press conference in 2007 as she reclaims her father's decrepit business (hinting at human rights violations which transpired there under his unyielding rule) and reconstitutes the entity for her own vainglorious purposes. However, Joon-ho's script, co-written by Jon Ronsen (Frank; The Men Who Stare at Goats) can't quite sell this effectively.
Neither cheeky nor witty, Swinton's opening diatribe is one of many leaden moments from English language cast-members, and thanks to her own kooky energy, she's able to land Lucy Mirando's blatant elitist insecurities with some aplomb. But it's another testament to Okja's tone deaf issues when Lucy's twin Nancy finally makes her appearance, which seems a waste of an opportunity better done in the Coen Bros. Hail, Caesar! in their similar use of the actor.
Those minor saving graces cannot be attributed to Jake Gyllenhaal, who seems to have modeled his Dr. Johnny Wilcox on Steve Irwin by way of Dr. Frank-N-Furter, and whose few on-screen moments are grimace worthy, at best. Others, from a wasted Shirley Henderson, to Giancarlo Esposito, Lily Collins, and Daniel Henshall fall into a mass of inconsequential accents, while, somehow, the persistently mournful Paul Dano sticks out as an appropriate performance.
If there's any real discovery to Okja, it's the energetic performance of newcomer An Seo-Hyun as Mija, who also stands out in several of the more ambitious action driven sequences. But as vibrant as her presence is, her relationship to her big friendly pig is never really allowed to develop, at least not to the degree where their separation should sting our eyes.
In a formula used in many similar instances, from Free Willy (1993) and perhaps most obviously Babe (1996), Okja misses all the emotional marks (in ways Stephen Chow nailed in his 2007 CJ7). Despite taking easy aim at corporate greed, lying to the public about mutant GMOs (shades of Soylent Green here), and even gentle ribbing of the animal rights activists, Okja also misses the opportunity to deliberate mankind's inability to recognize their own willful and continual contribution to the problem of overpopulation and dwindling food supplies.
As thousands of super pigs get marched off to slaughter in a visualization which echoes Holocaust imagery (not to mention some brutal moments of violence launched upon these imaginary creatures), one gets the sense Okja could have been something much stronger and much more relevant than it ultimately is.
Reviewed on May 19th at the 2017 Cannes Film Festival – Main Competition. 118 Mins.
★★/☆☆☆☆☆