Reviews
Miss Peregrine's School for Peculiar Children | Review
Let's Do the Time Loop Again: Burton's Back with Another Belabored Children's Fantasy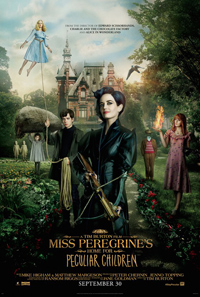 The time has long since passed when Tim Burton was able to concoct a richly observant gothic fantasy replete with subversive social contexts and meaningful characterizations. The offbeat auteur, who has remained prolific and idiosyncratic for the past four decades, remains a victim to the glossy onslaught of hollow CGI special effects, and his latest, an adaptation of Ransom Riggs' 2011 young adult novel Miss Peregrine's Home for Peculiar Children, is yet another exercise in empty-headed razzle dazzle. Although less staunchly dependent on the noxious green screen palette which ruined his 2010 take on Alice in Wonderland (which remains his most profitable box office venture), this still feels like a kissing cousin of not just Lewis Carroll but J.K. Rowling and Professor Xavier of Marvel's famed X-Men franchise, where strange children with bizarre gifts are trundled away to secret schools, safe from the prying eyes of rigidly regressive cultures where only normalcy (with slight aberrations in concepts regarding individuality) is deemed acceptable. When it should be eliciting a sense of wonder and amazement, Burton's latest unfortunately feels mundane, falling prey to an overcooked extravaganza of a finale which tries to streamline a predictably effects heavy third act but never captures the kookiness this type of material once commanded by the director.
When he discovers his grandfather (Terence Stamp) dying in his backyard, his eyes having been plucked neatly from their sockets, Floridian teen Jake (Asa Butterfield) defies the wishes of his parents (Chris O'Dowd, Kim Dickens) to go to Wales. Rifling through his grandfather's belongings and wishing to fulfill the dying man's last request, Jake is determined to get in contact with Miss Alma LeFay Peregrine (Eva Green), a shadowy woman from his grandfather's past who runs a private school. Unable to dissuade their son, Jake is accompanied by his emotionally distant father, who uses the opportunity to photograph local bird life while his son gallivants. Quickly, Jake discovers the ruins of the dilapidated school, which was destroyed by a German bomb on September 3, 1943. But as he explores, a mysterious blonde girl, Emma (Ella Purnell), along with several other strange children, appear and explain Miss Peregrine has advised them to fetch him and bring him through the 'loop.' Jake learns Miss Peregrine belongs to an order of beings who transform into birds and watch over 'peculiar' children by creating a repeated time loop for them to live forever—the only downside to their lives being the inability to live beyond the particular 24 hour period they've looped into. But a particularly nasty 'peculiar' known as Barron (Samuel Jackson), who desires to be immortal without being stuck in a loop, has been destroying those like Miss Peregrine, and was possibly responsible for what happened to Jake's grandpa in his effort to locate her.
We can add Miss Peregrine to another character in Eva Green's growing filmography of performances outshining the narrative she's lodged within. The performer's second collaboration with Burton (following the ill-conceived Dark Shadows rehash in 2012) proves to be even more limiting, especially for what promises to be a titular omnipresence. The folklore behind the world Miss Peregrine belongs to is explained matter-of-factly for us, but there's no depth to this universe. The initial build-up is actually quite melancholy and unnerving, a group of children forced to re-live what would otherwise have been the day of their death in WWII era Wales, to the point where each minute can be checked off on a memorized list of duties and events with little variation. The horror behind this, including the Holocaust allegory Terence Stamp's grandpa seems to be an allusion to, is never given the weight it's deserved in an effort to keep this purely fantastical escapism.
By the time we meet one of Miss Peregrine's colleagues in the form of a dowdy Judi Dench, the film creates more questions than it answers about these women, such as the disparity in their age, and why, exactly is their kind always female? Besides Green's wondrous transformations into the falcon she's named for, the actor has little to do but mug for the camera (for a more entertaining and similarly flaccid period piece starring Green as a boarding school teacher, see Jordan Scott's 2009 film Cracks).
The film's only real character strengths are achieved by Asa Butterfield, of Scorsese's Hugo (2011) and Emma Purnell, another of Burton's favored wide-eyed brunette's he finds more fascinating dyed blonde (Winona Ryder in Edward Scissorhands; Christina Ricci in Sleepy Hollow). Together they have some likeable, albeit predictably outlined chemistry, but at least strike the appropriate balance necessary for goading audience investment in their universe. But Jane Goldman's script (who wrote two X-Men films and may not have been the most daring scribe to adapt material which can be easily critiqued as derivative) gets embarrassingly shrill in its formulations of the naughty peculiars, particularly Samuel L. Jackson's nonsensical Barron, who looks like the zombie version of Frederick Douglass. Coleen Atwood's costume designs here also seem wasted, a bevy of insidious peculiars whose personalities are visualized through the designer's outfits but get edited out of the monotonous action sequences in the third act.
Although this is ultimately better than several of Burton's later fantasy extravaganzas, Miss Peregrine's Home for Peculiar Children simply isn't peculiar enough, and is hardly a deviation from what we'd generally expect from a director such as Tim Burton.
★½/☆☆☆☆☆