Reviews
Mission Impossible – Rogue Nation | Review
This Time, It's Rogue: Cruise Continues Singing It Forever Just Because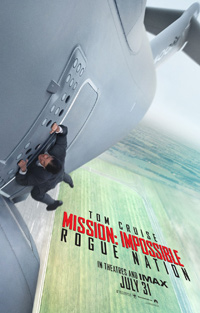 Arriving nearly four years after the highly celebrated and significantly lauded fourth Mission Impossible installment, 2011's Brad Bird directed Ghost Protocol, Tom Cruise and company are back, perhaps nervously expecting to pale in comparison to what remains a difficult act to follow. Though an element of surprise is lacking, it's safe to say Mission Impossible: Rogue Nation is an energetic action comedy manufactured with the utmost attention to detail in its remarkable action sequences. Helmed by favored Tom Cruise scribe Christopher McQuarrie (who wrote Valkyrie, Edge of Tomorrow, directed Jack Reacher, and did uncredited revisions on the last MI film), the whole endeavor feels like a snug outfit for its headlining celebrity.
Considering he first donned the Ethan Hunt persona almost twenty years ago in Brian De Palma's 1996 outing, he remains an impressive bundle of action star energy, though it's difficult to discern where performance and Cruise's persona end and begin. Despite whatever reservations one may have regarding either his abilities or the rather tiresome glut of franchise filmmaking, McQuarrie at least aims to write his material for adults, even if this sometimes surprisingly violent endeavor is straitjacketed into PG-13 suit.
The time has come for the IMF team to answer for all its questionable methods, with team leader William Brandt (Jeremy Renner) facing off against the egregiously bitchy CIA head Hunley (Alec Baldwin), a man who aims to have the specialized team disbanded. Ultimately, this leaves Ethan Hunt (Cruise) out in the cold, refusing to be absorbed into the agency like the rest of the team, including techie Benji Dunn (Simon Pegg) and Luther Stickell (Ving Rhames), who goes into retirement. Just as IMF falls apart, Hunt becomes targeted by a vicious group of terrorists known as The Syndicate, abducted in London and almost tortured by a man known as the Bone Doctor (Jens Hulten).
Saved by Ilsa Faust (Rebecca Ferguson), a member of British Intelligence in deep cover tailing the crime organization, a significant love interest with a woman who rivals his skills is born as he eludes this incredibly sticky wicket. Six months pass, and Hunt is still pursuing The Syndicate's leader (Sean Harris), leading to a showdown at a Turandot opera in Vienna, allowing him to dispatch Benji away from his new, dull desk job in Langley. The Syndicate's pattern of crime becomes ultimately clear, a group standing in exact opposition of the IMF team, desiring to destabilize civilization.
Although you won't find a feat beating Cruise crawling up the side of a glass tower in the midst of a sandstorm as seen in Ghost Protocol, there are plenty of vigorous action sequences presented with exciting, gorgeous clarity from returning DoP Robert Elswit. This time around, Cruise takes center stage more often, outfitted with the stirrings of a central romance with the incredibly fetching Rebecca Ferguson (who should come away from Rogue Nation with quite the elevated reputation).
Now in his fifties and showing no signs of tiring, Cruise still manages to cut an impressive figure running, tumbling, swimming, etc., but he's often upstaged by the nimbly lethal Ferguson, who steals any number of high octane action sequences. But McQuarrie doesn't stray too terribly far in that direction, instead focusing on more buoyant moments of comic relief between Cruise and Pegg, also appearing in his usual vein. Renner, everyone's favorite Baxter once again, and Rhames feel left out in the cold, and while we flit into their predicament with the CIA here and there, ultimately they're either lifeless or conveniently placed, outdone by the piranha that is Alec Baldwin who walks away with the film's camp card. At one point he goes into a monologue ending with "Hunt is the living manifestation of destiny!" which should eventually rival sound bytes of moments from Malice (1993).
Fun and even aggressively industrious, Mission Impossible: Rogue Nation is the herald of more Tom Cruise's Ethan Hunt. In the dwindling remnant of what now figures as mainstream entertainment for adults in the US, it's not a terrible expectation to look forward to.
★★★½/☆☆☆☆☆