Reviews
The End of the Tour | Review
The Admiration Game: Ponsoldt's Moving Homage to Artist and Artistry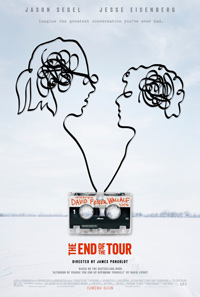 Following the critical successes of 2012's Smashed and 2013's The Spectacular Now, director James Ponsoldt recreates a defining moment in time between acclaimed author David Foster Wallace and Rolling Stones' journalist David Lipsky with The End of the Tour, based on the memoirs of the latter. Beginning with Lipsky learning of Wallace's suicide in 2008, we backtrack twelve years to 1996, after the publication of the author's famed novel, Infinite Jest, which inspired the journalist, a novelist himself, to vie for an interview with the enigmatic personality. Framed as an unforgettable memory, Ponsoldt captures what feels like a sincere elegy from Lipsky to Wallace, a road trip that lasted five days and ran a gamut of intellectual, emotional, and philosophical highs and lows pertaining to the meaning of fame, success, and what it means to be an artist. Carried magnificently by its two leads, Jason Segel's moving performance of the sincere yet conflicted author should launch the film into awardspeak territories.
As we skip from the mournful Lipsky's 2008 self to his memories of being the 28 year old interviewing the 34 year old Wallace, it's clear that the journalist is jealous of his success but also in awe of his talents. At first he's an affable interviewer, though his editor back home (Ron Livingston) stresses that Lipsky needs to push the author about more sensitive issues to spice up the story, such as the nagging heroin addict rumors that have plagued Wallace. Becoming more and more candid, even though vocalizing his own fear and paranoia that Lipsky may warp everything he says, Wallace's inviting personality allows the two to form a tenuous bond that is quickly tested after they land in Minnesota, where it becomes more and more clear that the journalist has his own superseding agenda.
As Lipsky, Eisenberg does what he's good at, playing a highly intelligent yet passive aggressive personality consumed with achieving the fame and notoriety he believes his talents afford him. He's the type that would seem right at home in the viper pit of Listen Up Philip. The disparity between them is immediately apparent in his interactions with Segel's Wallace, who seems very much the shy enigma that would have the ability to create an unassuming masterpiece. Set entirely within the weekend interview, including at Wallace's home and his final tour trip to Minneapolis and St. Paul, Minnesota, fears of failure, mediocrity, and the necessity for love and admiration dominate the conversation. It's perhaps a testament to Lipsky's candidness that we're allowed to see how smarmy and unappealing he seems when unguarded, clearly engaging in the very behaviors that Wallace is nervous about in relation to the spin of Lipsky's article.
The end result is a vibrant, intelligent conversation piece made all the more pleasurable due to Segel's charismatic turn, painting Wallace as a sincere personality severely anxious about how others perceive him. "This isn't real," is his repeated refrain in reference to his success when prodded by the sycophantic Lipsky, who readily and blatantly flirts with Wallace's ex, Betsy, played by Mickey Sumner. Other minor players figure briefly, such as Lipsky's girlfriend and editor (Anna Chlomsky and Ron Livingston) have little to do, while Minnesotans played by Mamie Gummer and Joan Cusack are rendered warmly.
Though the playfully competitive banter between Lipsky and Wallace sours quickly by weekend's twilight and turns into a sometimes vicious telling of truths that renders the possibility of a budding friendship inert, it's clear the brief moment had a profound effect on Lipsky. Framed as it is with the 2008 version of Lipsky appearing grim, and silent except for a brief elegy as concerns his old friend, The End of the Tour gives us less of an idea about Lipsky, but feels like an honorable depiction of a beautiful mind unfettered by the trappings of a generic biopic.
Reviewed on January 22 at the 2015 Sundance Film Festival – Premieres Program. 106 Mins.
★★★½/☆☆☆☆☆