Simple comme Sylvain | 2023 Cannes Film Festival Review
Heart in the Right Place: Chokri Lets the Body & the Camera Do the Talking in Rom Dramedy
French Canadian filmmaker Monia Chokri adds another notch to the bedpost focusing on the romantic relationships we begin and the romantic relationships we begin to … ponder. If fellow 514 filmmaker Denys Arcand had a knack for philosophizing what makes opposites attract, with Simple Comme Sylvain we get into complex hierarchies about our role within the couple, the roles that are assigned to us and our active role-playing of sorts — dog leash et al. Working with more of a formal visual strategy that actually reminds of 70s and giallo cinema, Chokri's tendency to overstuff the narrative with a lot of dialogue and discord as in her first two features (2019's A Brother's Love and 2022's Babysitter) is replaced by more introspection, nuance and fluff. Tackling the entire set of reasons and logical basis as to why we flip a "switch" and go for it when we know its potentially disastrous for us, this wink to pseudo-intellectual tendencies and Chokri's signature funny bone and fluid pacing makes for a portrait that when everything works it's like being on cloud nine and when it hurts its Cianfrance's Blue Valentine level kind of ugly.
The cookie begins to crumble oddly when we innocently find ourselves at those types of house party gatherings where couples talk about everything under the sun and impart their knowledge — whether wanted or not. Once the kernel of an idea enters the open space, it tends to permeate and it becomes not a matter of time but opportunity. Magalie Lépine-Blondeau's Sophia crosses over to the other side – she is going too where no left-leaning intellectual usually goes: cabin country with someone of a different social and economic class. He is also good with his tools sorta speak. Pierre-Yves Cardinal (best known internationally as the antagonist in Xavier Dolan's Tom at the Farm) is quite possibly just a roll in the hay. For a good portion of the film's narrative, we see the pair evolve and make plans for something concrete however the charm might wear off as the friends and in-laws only remind Sophia that this is not her kind.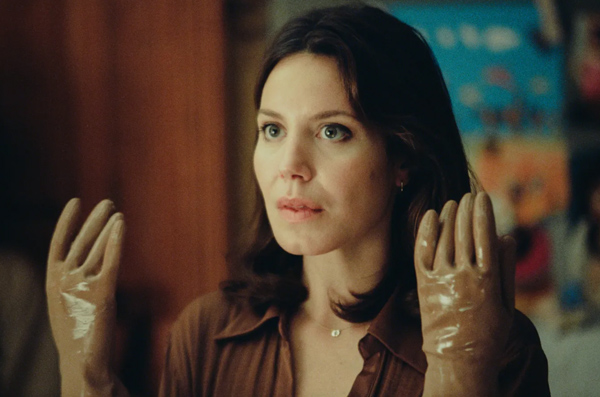 One item we find in Chokri's filmography to date is the need for women to situate themselves in their own timeline (Chokri and Lépine-Blondeau teamed for 30s aren't so nifty portrait in the short Quelqu'un d'extraordinaire) and sometimes presenting feminism within male-world parameters – we find a little of this here but its really about culpability and about ratcheting up one's rationale. The go-for-it and we only live once is just one facet of selfishness – something that innately would make the world work a bit better. Employing regular Dolan cinematographer André Turpin, the pair work with almost horror parameters that we might find in giallo – the camera zooms in and out of shots, pans over to the other piece of the atom – the notion of couple hood gets an aesthetic treatment that reminds us we are two peas in a pod, but that we are split versions of ourselves. It's a rather alluring choice.
While Lépine-Blondeau might have surface-level work she is nonetheless a delight and charismatic. One iconic dish wearing glove sequence is a lovely cardiac moment at once that explores the mental blockage and heteronormative values. Simple comme Sylvain reminds us that there is so much more to this thing called life especially if we become complacent or need to add mistakes to an otherwise perfect little existence.
Reviewed on May 18th at the 2023 Cannes Film Festival – Un Certain Regard. 110 Mins
★★★/☆☆☆☆☆