Unsolved Mysteries: Condon Recreates the Last Days of Sherlock Holmes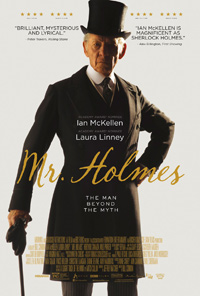 Director Bill Condon reunites with elements from several of his most critically acclaimed titles for his latest work, Mr. Holmes, those being actors Ian McKellan and Laura Linney, performers both bestowed with Academy Award nominations for their work with Condon. A late staged episode in the life of one of literature's most famed detectives, Sir Arthur Conan Doyle's Sherlock Holmes, the film is adapted from Mitch Cullin's novel, A Slight Trick of the Mind. More so an exploration of reconciliation than an actual mystery thriller, the title bears striking resemblance to Condon's most notable work, 1998's Gods & Monsters, in which McKellan played Frankenstein director James Whale towards the end of his existence, cared for by an elderly maid. This core dynamic plays out in similar fashion, though to less dramatic and detrimental effect. Melancholy and gently morose, it's a subdued resurrection of a classic literary hero.
Aged and retired, the venerable detective Sherlock Holmes (Ian McKellan) resides quietly in his isolated Sussex Farm House. At the age of ninety three in the year 1947, he tends to his bees, responds to avid fan mail and is assisted by live-in maid Mrs. Munro (Laura Linney) and her young son, Roger (Milo Parker). But his memory is beginning to fail, prompting a recent trip to Japan to meet with Tamiki Umezaki (Hiroyuki Sanada), a man promising to help Holmes collect an herbal remedy for memory loss known as 'prickly ash.' The supplement seems to be of little assistance, which enhances Holmes' confounding difficulty in recalling the final case which catapulted him into retirement. With Roger eagerly motivating Holmes to write his own story (something his old, absent partner Watson used to do, enhances tales since jettisoned into a cultural zeitgeist), he begins to write about the final case, concerning a mysterious woman whose fate still haunts him.
Though Mr. Holmes may be Condon's classiest affair in quite some time, following his uneven and unsuitable participation in the last two Twilight Films and the tepid Julian Assange thriller The Fifth Estate, it often feels a bit too mellow to register as anything more than another notable showcase for McKellan, aged nicely and appropriately with noticeable make-up enhancement.
Linney works alongside him just fine as an emotionally distant and dowdy maid, though one wonders why a British actress wouldn't have been more appropriate. Together, their symbiosis recalls Gods & Monsters, but sans the same heft. As we piece together the great mystery haunting Holmes into early retirement, Condon's film begins to feel more inconsequential, as if we've been foolishly misled, particularly by the tangent involving Hiroyuki Sanada and the magical supplement he provides Holmes with, a cognitive function elixir sounding an awful lot like Gingko Biloba. Newcomer Milo Parker is at least granted a child's role not overtly dependent on precociousness, more representative of a youthful energy the aged Holmes is enthusiastic to foster.
Throughout, we 'see' Sherlock Holmes' powers of observation, which tends to fool its audience into thinking there are similarly complex details we should in turn be observing within a rather elementary film.
★★½/☆☆☆☆☆