Who'll Stop the Train?: Apatow Matures with Schumer's Impressive Skills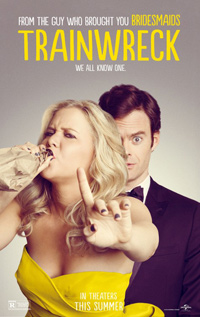 The most inappropriate element of Judd Apatow's latest film Trainwreck is its title, which promises to be a bawdy, crass marathon of blatant innuendo with a high potential for poor taste, if judging solely by its marketing publicity and reputation of its director and star/writer, comedian Amy Schumer. What a surprise to find not only a rather mature but even sensible depiction of generally undiscussed difficulties concerning relationships. Schumer shines in her own generously concocted marinade, deftly spinning an excellent characterization for herself while managing a surprising amount of appealing supporting characters. With a running time just falling over the two hour mark, you're bound to find a few instances worthy of trimming, but Schumer's pleasurable hurricane hits almost all its marks, a thankful reprieve from the usual glut of testosterone fueled R rated adult studio comedies.
Amy (Schumer), is a desensitized young woman writing for a pretentious magazine called S'NUFF. From an early age, Amy and her sister Kim (Brie Larson) were taught by their father (Colin Quinn) that monogamy wasn't realistic, an observation Amy has grown to use as a self-defense mechanism by spreading herself like mustard over a throng of random male lovers. Kim, meanwhile, has married and started a family with a man (Mike Birbiglia) who already has a young son. Amy's self-absorbed boss (Tilda Swinton) assigns her to write a piece on Aaron (Bill Hader), a surgeon who specializes in repairing athletes. They have a definite rapport, and one thing leads to another, and well, you know.
It's rather unfair to assign the terminology of 'trainwreck' to Amy's behavior. Immature, sure, but she's hardly doing anything we haven't seen a countless legion of male protagonists do before her, which would be her penchant for engaging in meaningless casual sex with multiple partners and seemingly care less about the food, drugs, or alcohol entering her body.
The film's more ribald moments almost eclipse Schumer's careful characterizations, which she manages to balance with extended familial sequences involving the troubled relationship with her father and sister, a warm portrayal by Brie Larson. Clearly, her sister is managing to attain all the rewards Amy doesn't believe she deserves, partially because of her behavior and idolization of her father, but also because she's not a woman looking to 'settle.' So although the film maintains the rather customary happy resolution we've come to expect from Apatow's oeuvre, there's the definite sense its central couple isn't really settling, but merely allowing its female character to enjoy and appreciate the love she does deserve. If this all sounds rather serious for the type of comedy you think Trainwreck should be, don't worry—it's got a generous amount of outrageous material, but it's rare to see an equal measure of poignancy in this type of vehicle, which is exactly what provides the film with a delectable edge.
As Schumer's boss, a perversely on-point Tilda Swinton stars as an emotional black hole editor, stealing a handful of scenes, while comedians Dave Attell and Mike Birbiglia are on hand for running shticks. And then Ezra Miller somehow provides the film's most memorable sex scene.
We don't get as much by way of characterization for Bill Hader, other than his likeable chemistry with Schumer. He spends most of his solo sequences with his best bud, LeBron James, and the basketball star is better than average (in comparison to other athletes granted cinematic moments), but it robs Hader's character from a bit of necessary development. An intervention sequence involving Matthew Broderick, Marv Albert and Chris Evert should have appeared as a bonus feature on the eventual Blu-ray release. The same can be said for a few too many early sequences with John Cena as Schumer's initial number one fuck buddy, namely an awkward sequence in a theater (which sets up an unnecessary moment with Daniel Radcliffe and Marisa Tomei as stars of a tiresome looking indie film called The Dog Walker).
Those familiar with Schumer's comedy and TV show are bound to recognize her signature is all over this scenario, and she greets the screen with her customarily impressive range of facial expressions and charged wit. In many ways, there is a subtlety here comparable to Zoe Cassavetes' Broken English (2006), about a jaded woman on the opposite end of the behavioral spectrum finding an unlikely, but well-written romance. Every so often a female comic gets a chance at bat in the cinematic realm, so we're excited to see where she goes from here, as well as Judd Apatow, who has arrived with his most streamlined effort to date.
★★★½/☆☆☆☆☆