Reviews
Night Moves | 2013 TIFF Review
Caring & Killing: Reichardt Attempts Eco-Thriller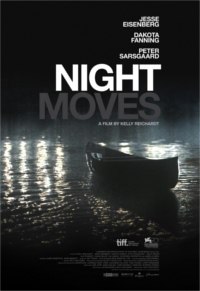 There is a lovable minimalism about the films of Kelly Reichardt, a sense of environmental awareness and personal disorientation seeping to the surface of each of her reticently composed features through the quiet observation of her introspective outsiders.  Now, try and imagine this style of austere filmmaking applied to an eco-terrorism plot that has all the narrative fixings of a traditional Hollywood thriller comparable to Zal Batmanglij's The East from earlier this year.  An odd choice to say the least, but this is Reichardt's chosen path.  With an air of nonchalance, the left field narrative is molded fittingly with her low-key filmmaking style to make her latest, Night Moves, a tense and terse tail of green-minded idealism that slowly descends into downright distraught paranoia.
Set in a rural landscape that could neatly house the arcs of Old Joy or Wendy and Lucy, a young, mulish farmhand named Josh (Jesse Eisenberg) has decided, along with a young like-minded acquaintance named Dena (Dakota Fanning) and a cagey interloper named Harmon (Peter Sarsgaard), to blow up a local dam as an act of ecologically-fixated social outrage.  The plan is to meet up in the backwoods, boat out in the dead of night with a full stock of locally purchased fertilizer and homemade explosives, return the aquifer to its natural state with eruptive force and retreat back to their normal lives, ceasing all contact with one-another until the heat blows over.  But all does not go as planned.  Their actions have unforeseen consequences that test both their morals and their trust in one another.
Like Reichardt's recurring friend in fiction, Michelle Williams, Eisenberg sports a perpetually pensive guise, a facade whose duplicity deteriorates as his guilt slowly shows itself through his general despondency.  His performance centers as a fascinating physical depiction of the revolving lack of faith and responsibility – in society's ability to adapt to the evolving environmental demands, in friends whose sworn words become not enough, in one's own culpability for one's actions.  As with the auteur's previous work, much screen time is spent dwelling on these internal struggles, in this case making the plotty narrative a muted excursion of subjective implication.
Being that the story employs an atmosphere rich with political debate on the topic of human responsibility for ecologic change, it's odd that Reichardt chose to use this hot-button backdrop more as a device to delve into character flaws rather than a springboard for civic discourse.  Though there are clearly liberal leanings that philosophically anchor the film, she uses this brazenly progressive mindset as a means to seriously question radicalism through the descent of her character's ethos.  Night Moves serves as a quietly open ended warning that asks not to hold world leaders and corporate heads hostage, but to take responsibility for the environment you yourself inhibit, conserving as you can.  It's a valiant cause with an accursed motive, and Reichardt seems to know that all too well.
Reviewed on September 15 at the 2013 Toronto International Film Festival – Special Presentation Programme. 112 Mins