Perfect Storm: Mystery Tinged Romance from Nadda Gets Blown Away in Gusts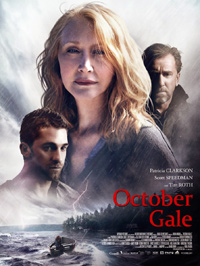 There's much to admire in Montreal-born director Ruba Nadda's latest film, October Gale, which reunites her with the Patricia Clarkson, star of her generally well-received 2009 film, Cairo Time. Nadda once again provides Clarkson with a melancholy tinged lead role that provides us with a framework that recalls classic 'women's pictures' of the studio era, something we'd most likely have seen from a Cukor or Negulesco and starring the embittered likes of a Joan Crawford or Barbara Stanwyck. Clarkson evokes a softer sentimentality than those references, which may explain why many will be dismayed when the film suddenly becomes a romance tinged mystery thriller, only one that doesn't want to sacrifice any of these particular elements and therefore tends to seem watered down on all fronts.
A Toronto doctor still grieving over the tragic death of her husband the year prior, Helen Matthews (Clarkson) eschews the assistance of her adult son to clean out the family's remote cabin in Ontario's Parry Sound. "I have to do this alone," she grimly explains, while a host of flashbacks fill in the missing details to convey that her husband had died while boating during a terrible storm that prior October. Dealing with her grief and her explicit memories, Helen is interrupted when a stranger breaks into the cabin. William (Scott Speedman) has been shot and Helen removes the bullet, warily handling the interloper who she suspects to be in some kind of danger. Affable and handsome, she begins to warm to him and learn small details about his predicament.
More than technically assured, October Gale does feel like something of a welcome return to form for Nadda, whose last film, the 2012 thriller Inescapable, was particularly tepid and underwhelming. Though Gale suffers from similar clunky, ill-conceived action sequences that appear overly melodramatic (particularly in retrospect), the likeable chemistry between Clarkson and Speedman prior to all that hooey makes for a rather enjoyable endeavor. If only we'd been given just a little bit more concerning each of their characters.
Initially, Nadda seems finely attuned to relaying Helen's emotional pain as she clears out the private cottage, memories playing back in her head as she sifts through the clutter left behind a year ago. Eventually, it seems appropriate that we should know more about Helen, but all her 'memories' are concerned solely with her dead hubby, as played in phantom form by Callum Keith Rennie. All is interrupted by the surprise visit of Speedman's William. To delay the mystery of his predicament, details are purposefully withheld, much to the detriment of the developing narrative. However, as truncated as this seems, it's comparatively winning material for Speedman, whose other recent releases include Egoyan's The Captive, and the woeful Colombian supernatural thriller Out of the Dark).
The surprise presence of Tim Roth over an hour into the ninety minute running time feels a bit too abrupt, even if Roth's exchange with Clarkson rates as one of the more amusing sequences in the film. DoP Jeremy Benning gets some beautiful aerial sweeps of the surrounding remoteness of Parry Sound, including an arresting use of the track 'Close Watch' from Angel Obel. Too often though, as the film progresses, questions surrounding character motivations reveal the fragility of Nadda's scenario, who depends on an alarming amount of coincidence to the point where contrivance distracts from the winning lead performances.
★★½/☆☆☆☆☆