Reviews
One Floor Below | 2015 Cannes Film Festival Review
Radu Muntean Updates Rear Window to the Modern Age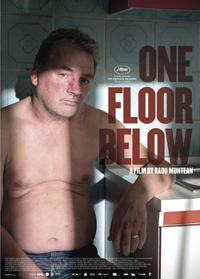 Radu Muntean's One Floor Below, the latest entry in the Romanian New Wave, has a bone to pick with technology–and other hazily-drawn issues that may be difficult to suss out. Coming in five years after his festival circuit breakout hit, Tuesday, After Christmas, Muntean now veers toward the mystery genre by ostensibly reworking Alfred Hitchcock's masterpiece Rear Window (1954) to accommodate Romanian middle-class life and 21st century perks and paranoias regarding Facebook status updates, motion-sensing video games, Fitbits, login passwords, and ominous neighbors. Fascinating and ultimately deeply mysterious, this is a film that presents seemingly illogical fragments from a murder case to thwart audience desires for procedural problem-solving, cruising along on an escalating sense of foreboding and cryptic ellipses.
After getting some exercise with his dog in the park, protagonist Sandu Patrascu (Teodor Corban) returns home to his apartment complex only to hear alluring, vaguely hostile sex talk behind the door of his downstairs neighbor, Laura. Sandy eavesdrops a bit too long and gets spotted by an aggressive man, Vali (Iulian Postelnicu), as he exits Laura's flat. The following day, a police investigation is taking place at Laura's apartment, and word quickly spreads that she is either dead or has been severely injured from an attack. Vali, the prime suspect for both Sandu and us, then starts inserting himself into Sandu's life, which is when the intrigue truly begins. Meanwhile Sandu's son, Matei (Ionut Bora), pulls in more bits from Laura's life after subscribing to her Facebook page.
Those familiar with the aesthetic of Muntean's cinema, or the Romanian New Wave in general, will feel right at home with his regular Tudor Lucaciu steady scope compositions, which democratically balances master shots with cramped interiors without a hiccup. Long takes are again key, though Muntean's sensibility is notably less austere than some of his New Wave contemporaries.
Because Muntean's constructs his narrative, about a man with access to only shards of the criminal events and players, with it's own strategic ellipsis, character's behaviors and psychologies are pretty specious, if not outright far-fetched. Given the increasing threat to his family, for instance, why does Sandu resist the obvious impulse of reporting Vali likely participation in Laura's case to the police? And with Vali aware of Sandu's knowledge, why does he insist on being so intrusive and palpably aggressive in Sandu's presence.
Class concerns, racism, and the weight of potential past debts linger in the air, but Muntean seems more concerned with the mystery of human behavior than the rational behind it, which makes for an exasperating but stirring portrait of illogic itself.
Reviewed on May 14th at the 2015 Cannes Film Festival – Un Certain Regard – 93 mins.
★★★½/☆☆☆☆☆