Grand Finale: Seidl's Final Chapter Strikes Surprisingly Tender Notes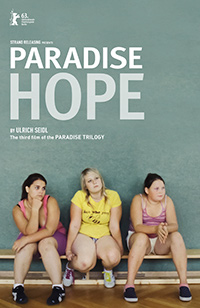 With Paradise: Hope, the crowning chapter of Austrian auteur Ulrich Seidl's Paradise Trilogy, the provocateur surprises us with perhaps the only way he possibly could after two emotionally grueling chapters—a stroke of tenderness. That's not to say that Hope is less uncomfortable or bleak as Love and Faith, but for once his addendum seems less harshly skewed, even if our lead character's illusion of hope is just as cursory. A thrillingly good equal to its sister films, Seidl tantalizes here by subverting our expectations based on his previous work, giving us a modestly sweet afterglow after we've gnawed our way through the sour and sublime.
While her mom is off in Kenya exploring sex tourism and her aunt Anna Maria suffers through a summer rendezvous with religion, thirteen year old Melanie (Melanie Lenz), known as Millie to her friends, has been enrolled at a camp for overweight teens in the Wechsel Mountains. Her attitude towards camp matches the apathetic atmosphere established by the emotionally distant dietician (Vivian Bartsch) and the robotically charged fitness instructor (Michael Thomas).
In their rooms that seem fashioned after bleak prison cells, Millie makes fast friends with Verena (Verena Lehbauer), who is 16 years of age. Verena's advanced sexual tales fascinate Millie, which perhaps instigates her attraction to the resident physician whom she initially visits for stomach pains. There's an immediate rapport between them, and soon Millie is visiting daily ("What do you do when you're not a doctor?") and soon, things get sinister. At first, they kittenishly engage in "playing doctor," but soon the older gentleman finds himself visiting Millie's room while the young lady shares her flirtatious feelings with Verena and unabashedly pursues the doctor out in the open.
The fact that Hope is set in a teen fat camp with the threat of pedophilia constantly looming and still maintains a benevolent, even empathetic tone, should be testament enough to not only the daring of Seidl but also his prolific talent as one of the most exciting directors working today. While he co-wrote this trilogy with Veronika Franz, Seidl will surely be hard pressed to outdo himself with this outstanding achievement. As with Faith, this final installment is perforated by droll moments of dark humor, such as the dietician's exercises involving the children singing, in English, "If you're happy and you know it, clap your fat," or the nighttime proclivities of the youngsters, where contraband like beer and snacks are exchanged over sexual curiosity via spin-the-bottle.
Scenes involving the children and the fitness instructor seem framed specifically for wryly humorous purposes, the instructor usually in center frame while children seem arranged in humorous patterns around him, milling around mechanically, nearly always unmotivated.
A late night kitchen raid seems predictable, though getting caught by the stern fitness instructor red-handed certainly adds a nice touch. And then, of course, the specter of pedophilia dominates the dramatic tension of Hope, but Seidl avoids judgment or moralizing. Millie is in aggressive pursuit of the 50 year-old physician, who clearly struggles with his developing feelings for the adolescent girl. In two separate sequences we brace ourselves for the forthcoming trauma, but each time we are surprised by something strangely moving that one or the other does.
While each of these films certainly stand on their own, your reaction to Hope will most certainly be enhanced after having experienced the trials and travails of Millie's aunt and mother, two women perhaps beyond hope, learning only too late that their own search for meaning and enlightenment has been in vain. There is hope for Millie still, as even though she's experiencing heartbreak and navigating through her own self loathing, she has escaped potential trauma. At the center of each of these interrelated films is a stupendously engaging lead performance. While Lenz, in her first film role, may not be as accomplished as Tiesl or Hofstatter, she gives a surprisingly realistic and well calibrated performance as a teenage girl on the cusp of self discovery. While each of these is an excellent film in its own right, taken together, Seidl's trilogy is sensationally sublime.