Reviews
Pasolini | 2014 TIFF Review
The Gospel According to Pier: Ferrara Poetically Captures an Auteur's Last Day on Earth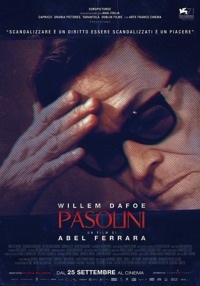 It appears that 2014 marks a resounding return for auteur Abel Ferrara, unleashing two new films comingled from actual noted events, both destined for diverse responses and uncompromising in their audacity. The first is, of course, the Strauss-Kahn film, Welcome to New York, which has already received a debilitated premiere after a botched release on the Cannes market (treated to an unwarranted, venomous response reeking of pretentious bias) and the US distributor has come under direct fire from Ferrara for suggesting cuts—don't listen to any of that drama and see it as soon as you're able. The other title is Pasolini, reuniting Ferrara with Willem Dafoe to explore the last day in the life of the famed Italian auteur Pier Paolo Pasolini, who died on November 2, 1975, and whose murderer has never been found. Rather than explore a host of conspiracy theories that have surrounded the event, Ferrara invests his energy in the banal activities in the last day of a prolific artist's life.
Already deemed a film meant to please Pasolini enthusiasts and no one else, it's true that having a basic familiarity with the director's extensive filmography should add to your general appreciation of the film, but that's not entirely necessary. However, you'll miss out on a variety of Ferrara's subtle accents in this devotion to a man he greatly respects and admires. Just beginning to envision the battle his Salo, or the 120 Days of Sodom would undergo with the censors, eventually to become one of the most infamous and reviled films ever made, he was a multi-tasking artist with other irons in the fire, already working on other projects just as that film was being readied for release, such as the unfinished manuscript for his novel Petrolio, and a new film, Porno-Teo-Kolossal.
Ferrara imagines what this last film would look like, filming several scenes that Dafoe's Pasolini walks through in his conversation of the film, and casts Pasolini's ex-lover and eternal muse Ninetto Davoli as the main character of Porno, the aged Epifanio, a man on a journey following the comet that would signal the birth of the Messiah. We're lead through Pasolini's vision of an orgy in Sodom and Gomorrah, where all the gays and lesbians come together for a procreation ceremony, with multiple orgasms signaled by booming fireworks. "This is the most tolerant city in the world," a cheery denizen tells Epifanio.
In a visual sense, Dafoe is inspired casting as Pasolini, who bears a very striking resemblance to the director. Speaking in accented English and lapsing into French, Ferrara deftly steps around issues of the lack of Italian as often as he can by attempting to highlight the cosmopolitan interactions of the director, beginning with a churlish reporter at the film's opening, whose interview feels more akin to a judgment, quizzing Pasolini on his supposed lack of militancy in his advanced years.
His last interview that was published in La Stampa is also included, proving the auteur's political ideologies were alive and well, his creative energies in full swing. Drifting in between these references and tangents that seem utterly stultifying in relation to the dramatic event to come, Ferrara fearlessly includes visions of Pasolini's erotic life, as well. Homosexuality wasn't depicted that often in his films, and Ferrara doesn't shy away from Pasolini's sexual tendencies, here bringing him into the orbit of a hate crime after he picks up a trick.
But even as much of Pasolini's film is mired in the drudge of what goes into the creative machine of writing and filmmaking, he also portrays the director's interactions with friends and loved ones. Though not particularly involving, these passages are warm and honest, including his interactions with his mother (Adriana Asti), his secretary and cousin (Giada Cologrande), and a favorite actress, Laura Betti (Maria de Medeiros). And then, there's a final dinner with love of his life, Ninetto Davoli (Riccardo Scamarcio), the young actor that would appear in many of the director's works, the last being Arabian Nights, where he's viciously castratred as it signaled when the actor left Pasolini for a woman.
There are snatches of Dafoe's voiceovers throughout the film, the director proclaiming "Narrative art, as you well know, is dead." As an homage that honestly attempts to grapple with the spirit of the great artist's works and beliefs, Ferrara has concocted a worthy assemblage to honor him. This isn't a narrative about the death of a great man, but a scattershot of an ordinary day in an extraordinary life.
Reviewed on September 8th at the 2014 Toronto International Film Festival – Special Presentations Programme. 87 Minutes
★★★½/☆☆☆☆☆