Campfire Tales: Robinson's Cold War Conjecture Leadenly Onerous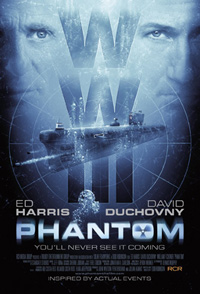 For his first directorial feature since 2006's true story tinged Lonely Hearts, Todd Robinson is back with another hyperbolized scenario with Phantom. While once again managing to assemble an arresting number of notable names in his cast line-up, the excitement stops there, revealing itself to be a misfire of nearly offensive proportions from its first frames. Struggling to maintain its straight faced seriousness throughout its tiringly slow pacing, it stumbles horridly into a shallow gutter in its last act, capping itself with some resounding laugh out loud sappiness.
The disappearance of a 1968 Russian nuclear missile that was later found unexploded on the ocean floor is the object of affection here. Neither country's government has declassified their information pertaining to this missile, so this story is what could have maybe possibly happened with it. It's 1968, and Soviet naval commander Demi (Ed Harris) is all set to retire, having just returned with his crew after a grueling 76 day tour in a submarine. But it seems he was not meant to rest yet, as no sooner is he on dry land, when his commanding officer, Markov (Lance Henrikson) assigns him one last tour, ironically in a creaky old vessel in which Demi first started his career.
The mission is highly confidential, and Demi rounds up his grumbling crew, led by is loyal second in command, Alex (William Fichtner). Right as they set off, the crew's political advisor, Pavlov (Jonathan Schaech), informs the captain that two special investigators will be joining the expedition, led by Bruni (David Duchovny), who has special instructions pertaining to the mission. Well, it doesn't take too long before the crew realizes that these instructors may be rogue KGB members, especially after they introduce their new "Phantom" technology which disguises their sub's sonar code and fools the Americans into thinking they are a friendly vessel. It turns out that the zealous Bruni is hell-bent on starting WWIII, but making it look like it was the Chinese that started it. But not on Bruni's watch, who attempts to lasso his steadfast crew, including the likes of Tyrtov (Sean Patrick Flanery), Yanis (Kip Pardue), Semak (Jason Beghe), and Sasha (Jason Gray-Stanford).
Your patience and comfort with English speaking actors portraying foreign others may determine a certain predisposition with the material. Since the American mainstream sensibility still recoils horrifically when asked to read subtitles and watch the moving image at the same time, however, we must make do with outings like Phantom and a many number of other foreign based films starring American actors (and yes, the theatrical world seems a much more forgiving avenue to overlook this, otherwise we'd be hard pressed to find productions of Chekov, for instance). But even knowing Harris and company are playing Soviets, it still seems rather jarring once they start referring to their enemy, the Americans, and an uneasy feeling develops, not unlike speaking with someone that insists on referring to themselves in the third person.
For what it's worth, Ed Harris manages to give a convincingly serious performance, and he has a knack for remaining unscathed in even the worst of productions (such as his batshit campy turn in the upcoming Sweetwater). Duchovny, on the other hand, is severely miscast, his sonorous monologues sounding as interesting as if he was reading the dictionary (he was, in fact, a replacement for Andy Garcia). Obviously without a budget for Tom Clancy baiting special effects, Robinson goes for claustrophobic close-ups of the sweaty, endangered crew, though still fails to build any kind of tension. Of course, this isn't helped by the cliché ridden script, which tries to slide in some ingenuity with some epileptic fits and nightmarish flashbacks, and even inserts Sean Patrick Flanery as the crew member who develops claustrophobia midway through the proceedings. Funny how that works. But whatever your misgivings about the narrative development, Robinson sinks his banal stroll even further with a clumsy finale that hastily tries to serve us closure, redemption, and Dagmara Dominczyk at one fell swoop.