Re-Making the Band: Lovemaking and Recording Sessions with a Killer Fanboy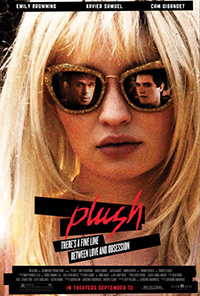 It may come with the advert of "From the director of Twilight…", but Catherine Hardwicke's disheveled, B-movie career-low Plush with its accompanying Lolita-inspired cover art offers a hackneyed story of a rock star looking for inspiration in the arms of an androgynous man after the death of her beloved brother/musical soul mate is off-putting at every juncture.
Hayley (Emily Browning) is the direct-to-video version of Hayley Williams singer the popular rock band Paramore, in fact one could even dare to say that the writer unashamedly, name included, based the character on her, but with a taste for an affair with the standard-cookie-cutter-seductive psychopath.
Once a successful band, Plush takes a step back after Hayley's brother Jack (Thomas Dekker) dies of an overdose, leaving her hopeless and writing songs for him. Unexplainably, a guy named Enzo (Xavier Samuel), who looks just like Jack, comes to rescue her and ignite the flame of creativity. Enzo, whose femininity deceives Hayley, is a fan above all and seems to have a kin touch for making her happy in what turns into a steamy sexual relationship adorned by black makeup, glitter, and oblivious husband, Carter, played by Cam Gigandet. With the excuse of writing new material for the band's upcoming album the pair falls for each other with Enzo's obsession crossing all kinds of boundaries. There is also supposed to be a mystery of sorts here, as complex as those not-so-intricate children-friendly cases devised for Scooby-Doo and his team.
Halfway into this cliché-ridden ordeal it is revealed that Enzo has a talent for making his own disturbing short films, which is aims to let the audience know he is creepy, and that an overly predictable twist is coming. Carter is also supposed to be working on a murder case as he is, apparently, a journalist, but these two stories are never developed. Enzo's freakishly run-of-the-mill past with some sort of family cult and abusive father is the basis for all the madness, yet it just briefly mentioned and becomes a ridiculously simplistic solution for all the script's baffling flaws.
Browning and the rest of the cast are believable, even proficient in their parts, but they are placed in such an absurd and unoriginal world they can't seem to fit in the overreaching formula. Of the enormous list of the things Plush tries to be, it yields little in any department. The torrid, quasi-incestuous romance between the star and the deranged fanboy is at best nicely shot. Those tiny strings of commentary towards the record industry and the burden of fame are minimal and unfocused. The premise of a murderous secret simply falls short and becomes painful to watch. Just as Hayley rises from the ashes after the disastrous reception of her album via plastic eroticism, one can only hope the writer, director, and cast can find an equally powerful force to recover from this.