Hangdog Hangover: Formulaic Comedy Eschews Characterization for Product Placement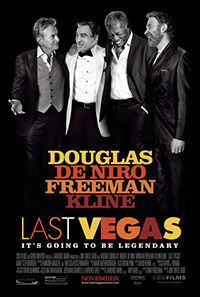 Director Jon Turteltaub, whose career is bolstered by a resume of unquestionably mainstream Hollywood fare, perhaps most notably with the National Treasure films (which may eventually and unnecessarily usurp the term 'trilogy'), teams up with screenwriter Dan Fogelman, author of his own unmitigated clutch of high gloss titles, for Last Vegas, a rather unabashed re-tooling of The Hangover for the 60+ crowd. Of course, the indubitable attraction of the film, despite all its predictable flaws and fantastically maligned realities, is the headlining quartet of four legendary, Oscar winning stars (and, natch, an Oscar winning actress in its lone female role of note), generating enough charm to keep the beat up in this failsafe crowd pleaser made for those with myopic quests for sensible content.
In 1950's Brooklyn, four friends that call themselves the Flatbush Four engage in a skirmish that provides them with a bottle of Scotch that manages to pop up 58 years later as a recurring object of infatuation when the fab four reunite in Las Vegas to celebrate the marriage of 70 year old Billy (Michael Douglas) to his 31 year old wife, Lisa (Bre Blair). An unexpected engagement inspired by the death of Billy's mentor sees Billy proposing while eulogizing his friend. The recent death of Sophie, married to Paddy (Robert De Niro), and Billy's absence at her funeral, seems to have caused an irreconcilable estrangement within the group, though non-sparring members Archie (Morgan Freeman) and Sam (Kevin Kline) do their best to smooth over everyone's hurt feelings so they can all enjoy a much needed vacation together. While Paddy's been in constant mourning since his wife's death, Sam's been living in Florida in a stagnant routine with his wife of four decades and Archie recently suffered a stroke and is thus being kept like a feeble senior citizen in the care of his son, Ezra (Michael Ealy). A chance meeting at Binion's with saucy chanteuse Diana (Mary Steenburgen) creates another romantic apex for the Billy/Paddy triangle, and various shenanigans ensue.
As anticipated, Last Vegas is an easy target for abject derision, guided unforgivably as we are at every moment by a leading musical cue that's either dopey, sadfacey, or some sampling of a pop track to distract us in some flat Vegas montage transporting us to the next scene of antics. Many have waxed poetic about the subversive comedy of The Hangover (at least the first one, which is highly debatable), and while Turteltaub and Fogelman aren't packing any hidden agendas, like the man-children of the Wolfpack Trilogy, they certainly aren't above sponsoring your standard misogynist worldview, even as they dial down the vulgarities. Las Vegas is simply a convenient bed to plunder for cinematic fantasy, a place where any one in any condition can engage in adult fun, a place globally accepted as the simulacrum of the pursuit of man's vice, (which we're conditioned to believe comes at the cost of female respect and dignity).
Drag queens from "Ru Paul's Drag Race" and a heterosexual cross-dressing Roger Bart extend an olive branch of tolerance by attempting an LGBT friendly tone in sequences that feel out of place and bog down the running time, which insistently and sonorously returns to the banal feud between Douglas and De Niro. But then, the narrative has to instill some type of overarching conflict, crippled as it is by poor writing, never bothering to hide the fact that it's one big gimmick.
One of its most glaring setbacks is a hokey prelude showing us the characters as young'uns in the 1950s, where, East Coast or not, racial tensions were still quite pervasive. Could a young black kid befriend three white ones in that time period? Yeah, at least we'd all like to think so—and perhaps not addressing it at all is just the safest thing to do. But there's something that feels a tad whitewashed about that. If we have to see them all as children, why not address or show how they came to be bonded in the first place? But subplots in a fluff comedy have to be conveniently placed for laughs and antics, not for cruel realisms, even if they do create plot holes and conveniently pass over potentially awkward questions. Instead, Last Vegas wallows in its own parade of product placements, another example of the sparkling city as an endlessly self referential whore.
That said, mainstream offerings for anyone that's not a teenage boy are a welcome reprieve, and comparing Vegas to last year's stagnant Stand-Up Guys (which headlined Pacino, Walken, and Arkin), one realizes a certain level of charm and endearment is attained by a cast that probably would be even more entertaining to watch behind the scenes.
While De Niro can't seem to escape the caricature of his own persona, and an orange skinned Douglas may sometimes resemble Cloris Leachman, Freeman and Kline maintain a constant-ish stream of comic relief to deliver the lines and grab the laughs. Steenburgen, while looking fantastic, is more of a plot device, though she's also charming even while participating in plastic romantic exchanges. While Last Vegas is successful in that in never pretends to be more than the contrivance that it is, your enjoyment of it will depend on checking your own expectations at the door.