The Price of Success | 2017 Toronto International Film Festival Review
The Price of Life: Lussi-Modeste's Modest Profile on the Sacrifice of Fame and Fortune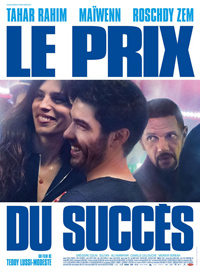 Director Teddy Lussi-Modeste scored positive notices for his 2011 debut Jimmy Riviere, which simultaneously made a high-profile star out of Guillaume Gouix (nabbing a Cesar nod for Most Promising Newcomer) who stars as man torn between loyalty to his community of traveling Pentecostal Christians and a passion for Thai boxing.
Lussi-Modeste reteams with Rebecca Zlotowski (the director of Planetarium and Grand Central, who also scripted his debut) for The Price of Success, another similarly structured narrative about an Arab comedian whose rising fame has begun to erode personal relationships, such as his bond with his overbearing brother/manager and his non-Muslim girlfriend.
Suffering from some clichéd beats on the usual disputes between family and fame, the screenwriting duo don't manage to enliven the garden variety dysfunction usually inherent in these scenarios despite the specificity of profiling the novelty of a successful Arab comedian within a mainstream culture historically hostile to such perspectives.
Brahim Mecheri (Tahar Rahim) is France's new comic sensation (think the equivalent of Kevin Hart), the importance of which is not lost on many cultural prognosticators considering he comes from a working-class French Arab family. But as Brahim's success and subsequent popularity widens, he begins to outgrow the need for his loving but irresponsible older brother Mourad (Roschdy Zem), who has served as the manager (and veritable catch-all) for his younger sibling since the get-go. Mourad's behavior, including violent altercations with some of Brahim's hecklers, enhances their growing rift. The recent appearance of Linda (Maiwenn), an artistic theater director who has moved in with Brahim, also complicates matters. When Brahim is convinced to hire professional representation for his growing brand, however, his family becomes embroiled in dramatic turmoil.
A glossy cast goes a long way, and The Price of Success coasts on the promise of spinning this triptych of Tahar Rahim, Roschdy Zem, and writer/director Maiwenn into something worthwhile. Rahim, however, is saddled with starring as a comedian whose skills remain untested (say what you will about Taylor Hackford's ill-received The Comedian, but it sold the perception of a character enamored of such a universe). Instead, he's saddled with anxiety over his career and increasing paranoia about his clearly unstable and uncontrollable older brother, who shows an extreme penchant for emotional manipulation.
Claire Denis regular Gregoire Colin shows up as Rahim's eventual career savior, but if there's anything truly relevant in The Price of Success, it's how it showcases the versatility of Roschdy Zem, more often cast as a stable, heroic good guy in many of the French language films of his which make it to the US (however, it doesn't help matters knowing Zem also recently starred in Xavier Beauvois' 2014 similarly titled film The Price of Fame). The supposed romance (or even baseline connection) between Rahim and Maiwenn is never rightly developed, even though her presence is used to showcase the clash between gender roles in traditional French vs. Muslim cultures.
As tensions reach a boiling point, leading to some not so shocking misogynistic lashing out and brute force, The Price of Success fizzles out into the sort of general resolutions we've come to expect from these familial scenarios, rooted in showbiz or otherwise. But for a film balanced on the supposed talent of its main character, it never allows him (or anyone else) to be showcased as exceptional or compelling.
Reviewed on September 7th at the 2017 Toronto International Film Festival – Special Presentations Programme. 92 Mins.
★★/☆☆☆☆☆