The Climate Was Changing: Warchus Revisits 80s Set Instance of Activism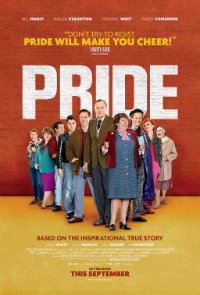 British director Matthew Warchus first appeared in 1999 with his directorial debut, Simpatico, based on the Sam Shepard play. While it received a rather underwhelming response despite starring Jeff Bridges, Nick Nolte and a supporting Sharon Stone, Warchus has been off the map for the past fifteen years until Pride. An insightful screenplay from first time writer Stephen Beresford is the first of many surprises in this well performed resuscitation of the 1984 UK mining strike, which examines the possibilities of tolerance and supporting those in need of assistance. Though its tale may seem merely a footnote in the long haul toward LGBT equality, Warchus has concocted a relatable film meant to cross boundaries and audiences, and thankfully isn't shackled down by its own good intentions.
In 1984 Britain, the National Union of Mineworkers called a series of strikes that crippled the government. Margaret Thatcher wanted to close the unprofitable mines and privatize all the others several years earlier, but through some ingenious plotting with the National Coal Board, closed pits in 1984, to which the union President responded to by declaring a national strike. But because of a lack of a national ballot of the union's membership, the strike was declared illegal and those striking were denied access to benefits. Thatcher militarized the police and rallied the media against a group of people she termed "the enemy within." As these headlines filled up all the UK news stories, another group of people struggling for rights recognized such terroristic treatment. During a rally, Mark (Ben Schnetzer) has the idea off the cuff to create a group called LGSM, Lesbians and Gays Support the Miners. Raising money, Mark and his friends approach the denizens of Onllwyn via Dai (Paddy Considine). The villagers are at first reluctant to take money from such undesirables, until they get to know them a bit. It's a cool friendship, but one that grows quickly between the groups, though several citizens make it clear they will never change their attitudes about the gays.
Newcomer Ben Schnetzer gives an earthy performance as the enigmatic Mark, the fearless leader, so to speak (Schnetzer is joined by his The Riot Club co-star Freddie Fox, in which they play young men of a wholly different disposition), though he's also the most problematic character of the bunch. References are made to the 'gay agenda' of LGSM, which Beresford's script addresses head on in several instances, yet still skirts around. Of course they have an agenda—Mark realizes the need for something called an ally from the dominant culture, and thus, doesn't position their need heedlessly.
The purpose of LGSM is to support a group of people being terrorized in the exact same fashion by Thatcher's goons (to think that Streep won an Oscar for such a paltry and disingenuous portrait of such a figure still smarts), their entry to common ground. Their plan was logical and practical, so why their motivation is handled so gingerly lends a sometimes awkward discomfort to the proceedings, not unlike an uncomfortable moment when Dominic West shows off his dancing skills for the miner's wives.
Pride has the earmarks of many celebrated crowd pleasing queer films, like To Wong Foo, Thanks For Everything, Julie Newmarr. Though the gay characters don't magically transform the lives of their heterosexual counterparts as the drag queens did in that film, much of the comic relief feels born from the same exploration of differences between the indoctrinated normality of the heteronormative when it butts up against the comparable freedom of those operating outside its rigid strictures. But if there's any real complaint about Pride it's the incredibly grating and bombastic score from Christopher Nightingale, which screams and tears through the film like a drunken choir.
To his credit, Warchus casts very normal, real looking actors. You might balk at West's haircut, playing a man that actually acted alongside Susannah York, but he fits the bill. As unassuming as most of its queer characters are, the Welsh community hosts a gaggle of talented names, some of whom give the best performances in the film, including a perfectly cast Imelda Staunton and Bill Nighy. Newcomer Jessica Gunning also makes a notable impression.
To be sure, there are a handful of moments that sometimes feel a bit overdone, such as when everyone bursts out singing during a somewhat uncomfortable gathering. And Beresford dials down the hate speak considerably. We're certain that the word f*ggot would have been tossed around a lot more liberally in 1984 than it is portrayed here, but Pride is vying for a tricky balancing act, to relate a worthy story that's not meant to guilt or provoke but point to our innate possibilities to accept others for who they are, the period evoking that this is something that's always been possible no matter the era. The AIDs crises is also kept at a healthy distance, something going on around these people who had much more immediate concerns at that particular time. At a Pride gathering at the finale, Warchus and Beresford slyly convey the contemporary attitudes that would eventually mutate such celebrations. "No politics, this is supposed to be fun," Mark's group is shrilly chastised upon showing up with their banners and slogans.
A very wise film depicting a darker period only a breath of time behind us, Pride is an important reminder of the work accomplished, the work ahead, and how the politics of equality can never be thrown down or ignored, especially not for a parade or gathering meant to celebrate the uniqueness and strength of the LGBT community.
★★★/☆☆☆☆☆