Reviews
Private Life | 2018 Sundance Film Festival Review
She's Not Having a Baby: Jenkins Returns with Freewheeling Fertility Melodrama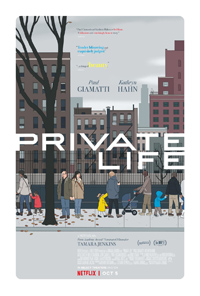 American indie director Tamara Jenkins returns with her first directorial effort since 2007's Oscar nominated The Savages with a familiar fertility melodrama saddled with the ill-fitting title Private Life. Utilizing some familiar personality types we've seen from Jenkins' celebrated filmography, this two-hour plus melodrama offers several moments of poignance thanks to nuanced performances from the ensemble cast. However, for such familiar tropes, considering in vitro fertilization and surrogacy have provided the basis for many iconic titles across a variety of genres, this lacks the biting self-awareness of her previous films, including 1998's Slums of Beverly Hills, her first venture into lovingly drawn portraits of families who are as complex as their ongoing conundrums.
Rachel (Kathryn Hahn), a successful author and playwright, and husband Richard (Paul Giamatti), who once ran a theater troupe but now commands a Manhattan pickle business, have been struggling to come to terms with their difficulties in becoming parents. After years of fertility treatments and a failed surrogacy attempt, they've decided to go the invitro fertilization route only run into further complications, requiring they borrow more money from Richard's brother (John Carroll Lynch) much to the chagrin of his wife (Molly Shannon). As they concurrently try their hand at adoption, another major physical setback has their physician (Denis O'Hare) recommending an egg donor. And so they decide to approach Richard's step-niece, Sadie (Kayli Carter), who has recently left college to crash at her favorite aunt and uncle's house. The experience leaves them all questioning their desires and the sometimes-belabored plans of fulfilling them.
Private Life plays like the lighter side of some recent Noah Baumbach ventures, where hyper-civilized Manhattanites, usually at odds with their pretentious extended family members, fail to live up to their own expectations in what seems a constant struggle to have it all. Kathryn Hahn and Paul Giamatti have similar chemistry to the brother and sister characters played by Laura Linney and Philip Seymour Hoffman in The Savages, but obnoxious quests and tendencies are side-stepped in this package rather than the kind of self-reflection which has previously marked Jenkins' films. However, this does allow for more strident and endearing energies to be absorbed by newcomer Kayli Carter as the hirsute niece, a generous portrait which rivals the Natasha Lyonne lead of Slums.
But Private Life, at times, doesn't seem to know what it wants to be about. In a certain sense, this is a darker edged portrait of pregnancy as a rite of passage, as deemed by constant cultural references, such as Rosemary's Baby, The Handmaid's Tale and even Mary Beth Whitehead. Initially, Sadie seems to be the bridge between a juxtaposition of two couples and the differences in their lives and values, between the creative bohemians versus Sadie's suburban and under-utilized guardians, an effervescent Molly Shannon and John Carroll Lynch. Vocalizations about the selfishness of their endeavor are forgotten as soon as they're uttered, as is the privilege of both groups of people we're observing (Siobhan Fallon Hogan makes an appearance as an affable social worker, the film's most down-to-earth personality).
Jenkins does avoid several clichés the narrative seems to be headed for (a side romance with Desmin Borges' Sam, described as a 'broken but beautiful' character out of a Sam Shepard play) certainly doesn't go where one would imagine, for instance. But at the end of the day, these characters are not members of the same mettle as those troubled but lovable souls in either Slums of Beverly Hills or The Savages—despite a wonderful and warm Kathryn Hahn and an often tear-inducing Kayli Carter. At the end of the day, Private Life might as well have closed with the Rolling Stones' "You can't always get what you want/But if you try sometime you find/You get what you need," since everyone seems to take for granted the wonderful support systems often right in front of them.
Reviewed on January 18th at the 2018 Sundance Film Festival. Premieres Program. 129 Mins.
★★★/☆☆☆☆☆