Reviews
The Raid: Redemption | Review
Slaughterhouse Orchestra: Gareth Evans Offers Full Course Action Meal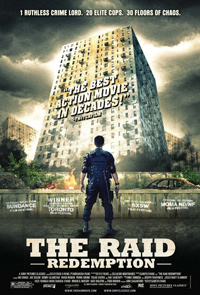 There's nothing innately wrong with a one trick pony, and kudos to the film that knows how to play to its strengths, but even consumers with the most voracious appetites for violence know that to be overexposed leads not only to mind-numbing stupor but apathetic desensitization as well. Welsh born director Gareth Evans arrives with his third feature, The Raid: Redemption, a carnage laden martial arts action extravaganza, that, in a visceral sense, not only tops the output of Indonesia's cinema, but also rivals nearly every genre effort in the same vein. But all style and no substance leads to a brazenly stupefying exercise in testing patience.
Rama (Iko Uwais) is a rookie member of an elite SWAT-like special forces team assigned to a special, secret mission to extract a vicious crime lord from his residence at the top of a fifteen story dilapidated apartment complex. But boss Tama (Ray Sahetapy) is alerted of their presence by a spotter. Putting the complex on lockdown with the help of his violent neighbors, Tama dispatches his two right hand men, Mad Dog (Yayan Ruihan) and Andi (Doni Alamsyah) to hunt down the trapped special forces team. Offering free rent for a lifetime to all the criminal residents renting the apartments if they can help take down the invading forces, many a gun battle ensues before the corrupt boss of the special forces team (Pierre Gruno) reveals that he has orchestrated this raid without permission from a higher legal authority and cannot call for back up. When the team captain is taken down, Rama must step in for some hand to hand combat, revealing a hidden motivation for his own involvement in the raid on Tama's complex.
While some may euphemistically call The Raid: Redemption an efficient action flick, the underwhelming, bare-bones plot catches up with the high velocity action scenes before the film reaches its midway point. Is The Raid efficiently or lazily written? Sub-par acting and laugh inducing character development aside, it's really only an editing notch above old JCVD and Steven Seagal movies. Chock full of gasp inducing visuals that generally last for a split second before we're whisked away for another close-up gun shot wound to another nameless head or some similar intensely violent and bloody flash, the film's visual shocks and pleasures look great but have the staying power of a high induced from whippets.
It's clear that director Evans, who discovered star Iko Uwais while making a documentary about martial arts (and after working together on Evans' 2009 action film, Merantu), has really made a video-game plotted film with a Tony Jaa talented performer that gets to engage in more violent, prolonged scenarios. A new score (added after its 2011 premiere at the Toronto Film Festival) from Mike Shinoda of Linkin Park and Joseph Trapanese (who has collaborated with Daft Punk and M83), can be listed as one of the better aspects of the film, but its too bad that moody tracks only tend to enhance the sterile, video-game quality of the feature. Action film junkies will rave about The Raid, but those that appreciate nearly every other aspect involved in filmmaking might feel like the awesome word of mouth surrounding the film may not correspond to those outside of the fanboy machine.