Death as a House: Weekes Finds Woe in Immigration Horror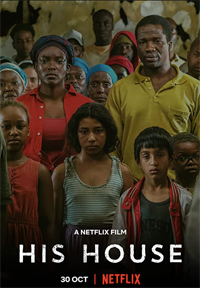 It's a trauma so innately horrific on the surface the thought of collapsing it into what's essentially a haunted house thriller might seem tasteless, but Remi Weekes masterfully blends the realities of refugees with a heaping dose of metaphorical mental health stress in directorial debut His House. On its own, a refugee seeking asylum is anxiety-laden enough, but Weekes, working from a story by Felicity Evans and Toby Venables, re-vamps the energies of kismet for a contemporary fairy tale about survivor's guilt, xenophobia, and retribution. A pair of finely tuned lead performances assist in selling the success of what could have been another exercise in familiarity, showcasing a variety of sinister ordeals encapsulated almost entirely within a claustrophobic trap house.
Rial (Wunmi Mosaku) and Bol (Sope Dirisu) are a couple who have fled South Sudan. It seems their only child drowned in their flight, but they are eventually cleared for asylum in the UK after being secured in a holding facility for some time. They're ushered into a tenement style house in a less than affluent neighborhood while being told, for the time being, they will not be allowed to change addresses or seek employment. Stuck together in the house, wary of both their white and black neighbors, it seems a supernatural presence has followed them, an "apeth," or "night witch." Whispering in the walls, the creature haunts Rial and Bol, trying to tempt them with a deal in sacrificing one of themselves for the return of the dead child. As time passes, and mental states fray, we learn some hard truths about Rial and Bol.

Much of the running time in His House sets up a juxtaposition of assimilation. Extremely limited on their fixed income without the ability to work or move, gender dynamics seem to come into play, with Bol wandering into London suburbs, engaging with locals, investing in the act of 'fitting in' (if audiences have happened to experience several chapters of Steve McQueen's Small Axe series, one will note it as a reminder of the contentions faced by Black immigrants and refugees both historically and currently in the UK, as elsewhere).
Rial seems to have the more difficult experience, sometimes aided by her outright resistance of adopting even the most banal of cultural tendencies. As we chip away at their nerve and resilience, Weekes slowly but surely reveals damning information about what they were forced to experience (including some superb visual aesthetics, such as a zoom out which finds Bol in a crumbling façade while the ocean and the undead rise up around him).
Romola Garai explored some of these parameters in her debut Amulet (2020), while Jacques Audiard's Dheepan (2015) also highlighted the necessity of makeshift refugee families forced into adopting familiar roles with strangers for survival. Likewise, Burhan Qurbani upfitted Franz Biberkopf as a refugee who loses a loved one in similar circumstances at the outset of his 2020 remake of Berlin Alexanderplatz. So, these types of stories, they're familiar, if still somewhat uncharted. Weekes brings more of an immediacy, showcasing the neglect of a careless system (here more or less represented by the gruff, somewhat ambivalent case worker portrayed by Matt Smith) which begs for mental health attenuation.
"I survived by belonging nowhere," ends up being one of Rial's most profound lines (in a masterful and steely performance from Wunami Mosaku), also explaining her reticence as a stranger in this strange land. Shot by Jo Willems (of the Francis Lawrence entries in The Hunger Games franchise), His House is a surprisingly adept exercise in the necessity of confrontation, including forgiveness and acknowledgment of context. Whether or not you eventually believe the film's supernatural machinations are more metaphor than material, it's an exercise which craftily serves as both.
★★★½/☆☆☆☆☆