Arrhythmia of the Night: Savage Triumphs with Delightfully Bizarre Socio-Horror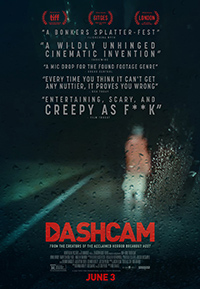 There's an art to successful presentations of unlikeable characters, further complicated when a protagonist is also unforgivably obnoxious. And when a filmmaker can transport us from loathing to at least a begrudging respect for said character, it conjures a rare sense of the sublime. Such is the case with Rob Savage's found footage (or, rather, live footage) horror film Dashcam, technically the filmmaker's second pandemic related film after last year's medium-length item Host. Fashioning musician Annie Hardy (of Giant Drag) into a MAGA loving conspiracist who heads to London to avoid Southern California's stringent lockdown amidst the COVID-19 pandemic, Savage gets our hackles up and then descends into chaotic madness. It's clear significant care was taken in the creation of what could have been merely a risible piece of social commentary, enhanced by its own limitations through the power of suggestion.

Fed up with the quarantine requirements in the US, musician and social media maven Annie (Annie Hardy) flocks to the UK to crash with her old band mate, Stretch (Amar Chadha-Patel). Told entirely through the lens of her streaming channel, BandCar ("the internet's number one live improvised music show broadcast from a moving vehicle"), Stretch's girlfriend Gemma (Jemma Moore) immediately clashes with Annie, who doesn't follow health and safety protocols as she believes the pandemic to be a hoax. About to be kicked out of their home, Annie steals Stretch's car and sets off on an adventure around London, finding some incredibly dark and disturbing discoveries.
Even if Annie's online persona is an exaggeration, it's clear she's a woman in a state of arrested development, or perhaps intended as the juxtaposition with her old band-mate, Stretch. But it's her personality which eventually segues into what makes a narrative like Dashcam work, for only someone so woefully self-involved and narcissistic would make the kind of decisions necessary to partake in and survive the strange events which ensue. While the constant streaming commentary, not unlike other recent social media-minded films like Spree, or even the Russian torture porn Sleeping Beauty, potentially distracts, it's also a statement of its own, where voyeurism and attention seeking intersect. Ultimately reminiscent of something like 1999's The Blair Witch Project, Savage manages to shift from grossly, even broadly comedic, into some effectively chilling moments.
Although its parameters necessitate a somewhat visually unpleasant film, the images skittering in the periphery, sometimes slightly out of focus, create wonderful WTF moments both laughable and creepy. Throughout it all, Hardy, like some delirious Maria Bamford caricature, proves to be preternaturally resilient. And while she never segues into a likable person, damned if you don't end up rooting for her, even if it's to see what kind of mayhem Savage throws her into next. Oh, and stay through the end credits for Hardy's entertaining freestyle rap to the names of cast and crew. Enjoyably batty, disarmingly funny, and surprisingly eerie, Dashcam is a rare novelty in modern horror cinema, effectively using genre to tease and subvert expectations.
Reviewed on September 16th at the 2021 Toronto International Film Festival – Midnight Madness. 77 Mins
★★★★/☆☆☆☆☆