Crimes of the Future | Review
Origin of the Neo-Species: Cronenberg Crafts a Discourse on Human Evolution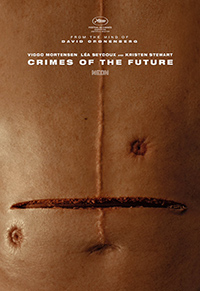 Whatever the evolution happening in the world of David Cronenberg's Crimes of the Future, his first feature in nearly a decade, it isn't entirely human. Like a hypnotic, sinister nightmare, this world where humans are mutating from the inside out heralds a new plateau in the body horror genre from the originator himself. Humans metastasizing new organs has generated a performance art craze as well as new governmental agencies and law enforcement groups eager to curb the chaos such unchartered territory promises.
As is appropriate for the tone of a dead world, a monotonous series of events reflects the paralyzed mood of a world where hedonism is a default because pain receptors have become obsolete—but pleasure without pain creates its own horrors. Cryptically loquacious, with its notable cast intensely discussing theories of the troubled future they're hurtling towards, it's a slick return for Cronenberg, whose tortured visions have been missed.
In a world where most humans no longer have pain receptors and become accustomed to a synthetic environment, Saul Tenser (Viggo Mortensen) is a notable performance artist who has an innate ability to conjure his own new organs, which he stylistically removes with the assistance of Caprice (Lea Seydoux) through performance art attracting large crowds. They utilize a complex apparatus originally intended for autopsies, made by the same company, LifeFormWare, which supplies Saul's Breakfaster chair and his bed, a pod-like half-shell structure calibrated to monitor his pain and administer relief. Notably, he's one of the few humans left with these receptors, but increasingly, Saul cannot swallow his food, even with the help of his apparatus, which is beginning to alarm him. While many of these organs are technically growths which could be classified as tumors, in the wake of Saul, there are others who have the same ability, causing the creation of a new Organ Registry Department, not quite established enough to be common knowledge. When a new organ goads Saul and Caprice to have it tattooed in the new department, employees Wippet (Don McKellar) and Timlin (Kristen Stewart) confirm the necessity of this method so the government can monitor these organs and assist humans in remaining on the correct evolutionary path. Meanwhile, a young boy murdered by his mother because he eats only synthetic materials is brought to Saul's attention by the child's father (Scott Speedman), who wants Saul to perform a public autopsy. Since he created the child to be a consumer of synthetic materials, the autopsy would announce to the world this new frontier of human capability.
While the characters of his infamous J.G. Ballard adaptation Crash (1996) were self-destructive pleasure seekers of the analogue age, those existing in his latest world require a different kind of technology with which to tear apart their bodies only to put them back together again. In the absence of pain, their pleasure has had to evolve as well, as Stewart's deliciously mannered Tamlin remarks, "Surgery is the new sex." Even these machines have been perverted for more glorious uses, where audiences gather in dingy, subterranean venues to quietly observe disembowelment for the collections of Saul Tenser's new organs, the functions of which are never specified because he never keeps them long enough in his body to find out.
Cronenberg's script yields fascinating conversations about the notion of designer cancer, or how 'performing an autopsy' already suggests our performative awareness of an act which technically means self inspection. Outside of the performing art arena (including a man decorated in ears), this is a darkly lit world, replete with abandoned monoliths as exteriors, sunken ships in the sea, and sterile office buildings humans occupy like insects underneath a rock. Tenser is technically an undercover agent, fed information from the sole member (Welket Bungue) of the New Vice Unit (NVU) who pops up to share news about growing civil unrest. In the sound design, the whisper of flies buzzing suggests a world in a state of advanced decomposition. The autopsy of Scott Speedman's murdered child is presented like an aborted messiah of the next human age where we will adapt to consume industrial waste as a sort of forced ecological recycling mechanism because surgical enhancements can now be inherited in future progeny.
It's not exactly complex, but it makes for fascinating conversations in Cronenberg's world building, like Naked Lunch transposed onto Brave New World. The conceit of the Inner Beauty Pageant, and how this illegal contest generates the technicians of LifeFormWare, the makers of the machines now controlling us, generates a mild blip in action with some quiet assassinations, but such censorship is in vain, for as Cronenberg alum Jeff Goldblum once said in another famed film, "Life will find a way." And so it does.
Mortensen, who headlined A History of Violence, Eastern Promises and A Dangerous Method, stalks around like a wraith, an object mostly acted upon, though celebrated because he supposedly 'wills' these new organ growths into existence. He's flanked by two women who tend to steal all their scenes, such as a novel turn from Stewart, fangirling over Saul Tenser, and a luscious, captivating Lea Seydoux, whose presence and line delivery recalls Isabella Rossellini in David Lynch world.
Added to the mix is Scott Speedman as the creator of the new human form, resembling Alan Bates, while Don McKellar also proves to be highly entertaining as Stewart's Organ Registry colleague. DP Douglas Koch supplies a polished grunge look from a production which was shot in Greece, while Howard Shore's score assists in inducing the film's trance vibes. A different take on the notion of trauma porn, Crimes of the Future is a somber, gratifying return from David Cronenberg.
Reviewed on May 23rd at the 2022 Cannes Film Festival – Main Competition. 107 Mins
★★★★/☆☆☆☆☆