Charge of the Gaslight Brigade: Levinson Gilds the Surface of Solipsism in Schizophrenic Drama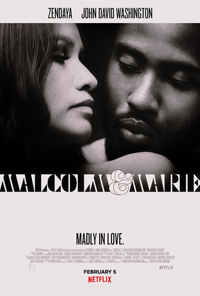 There's really nothing black and white about the revolving histrionics between a couple committed to their toxic undercurrents in the beautifully shot third feature from Sam Levinson, Malcolm & Marie. Hype has been high for the title considering it was shot hurriedly in secret during the pandemic and attracted the likes of John David Washington and Zendaya to headline a heavy two-hander in material calibrated for performers who can really appreciate shouldering abrasive, emotionally raw character arcs.

Although its velvety cinematography promises an arthouse homage to the New American Cinema of the 1970s, what begins as a dreamy cinematic exercise becomes eclipsed by an ostentatious nightmare of a screenplay. Committed performances aside, the constant peaks and valleys of a couple seemingly on the verge of ruination eventually whips itself into such inauthentic frenzies it has the audacity to provide preemptive metanalysis of how such cliched perceptions of cinema are loosely utilized by critics and journalists who mindlessly flaunt their own egos rather than properly engage with material they're more apt to drag than praise. But let's be absolutely clear – Levinson's tiring attempt to best Edward Albee is neither authentic nor emotionally compelling and plays like the equivalent of a pretentious couple engaged in relationship performance for a captive audience.
Malcolm (John David Washington) is a film director whose latest project has just premiered to what promises to be rave reviews judging by the audience's responses. Gloating over the predicted success of his labor of love, Malcolm returns home with his girlfriend of five years, the model Maria (Zendaya), oblivious to her reserved attitude. As she prepares him macaroni and cheese at one a.m., he finally recognizes there's trouble brewing, and the first of many complaints between the couple are aired when she expresses dismay at being left out of the salutations in his post-screening speech. She is, after all, the basis for the protagonist of his film, a pill popping suicidal model in her early twenties. Malcolm denies this association, but they spend the night gaslighting, manipulating and abusing one another until they break the dawn.
Shrill can't quite begin to describe the tonal shifts between the mercurial Malcolm and the comparatively sanguine Marie. It's a descriptor which can also be used to describe the pitch of Elizabeth Taylor's rantings, whose performance alongside Richard Burton in Who's Afraid of Virginia Woolf? feels like an obvious template for Levinson, who peppers his screenplay with a litany of classic references—but Mike Nichols understood how to use her shrillness effectively rather than detrimentally. But George and Martha, who also begin their dark odyssey returning home from a night of revelry, at least had Nick and Honey to sharpen their jagged claws upon.
Due to the parameters which resulted in Malcolm & Marie, we're chained to these two, who eventually sink like dead weights because the more barbs they exchange, the less their revealed truths feel logical or sound, especially considering the tumultuous history they've already endured. Instead, Levinson feels more adept at showcasing the manipulative gaslighting which occurs in a codependent relationship. In several key moments, the material certainly feels realistically familiar for anyone who's ever been in a long-term relationship and been forced to contend with power hierarchies, whether it be through prisms of race, gender, economic or professional attributes, etc. If only the dialogue didn't feel so ludicrously ham-fisted to the degree where Levinson breaches the point of no return on more than one occasion only to fly back from a precipice and into the subtlety more befitting how his characters playfully communicate mood through soundtrack selection (with William Bell, James Brown and Dionne Warwick all getting a chance to upstage Levinson's script).
Generally, when an artist directly excoriates his foes as Levinson does specific press outlets or the trenchant whiteness of laureled film critics, the desired effect should be one of mollification. Levinson concocts something instead which reflects, at the core, the masculine ego's inability to field critique. Of course, it's masked in Malcolm & Marie by actual issues regarding the lack of diversity in film criticism and the continual hobbling and politicizing of Black artists. Instead, Malcolm, though gregariously performed by Washington, is an abusive male whose fragile ego is so easily rattled it's difficult to reach beyond the garish façade and into the core of his character.
Zendaya, especially in the first several episodes of sparring, fares much better with her dialogue, even though it eventually feels as artificially calibrated. Through what seems a Bunuellian odyssey toward intimacy, they're eventually revealed as ciphers on a soapbox about to be dissolved in the continual waves of misery Levinson submerges them in. The promise shown through the familial miseries of his 2011 debut Another Happy Day, his pulpy teen scream queen flick Assassination Nation, and several episodes of "Euphoria," dissipates in Malcolm & Marie, which feels like a choppy homage to a variety of cinematic titans. The irony of its title over a bowl of mac and cheese suggests their symbiosis. But whatever one's thoughts about what Levinson and his leads can conjure or not, like the returning veterans of oft referenced The Best Years of Our Lives, Malcolm and Marie have returned from their own homegrown war to raze themselves within a façade as empty as themselves.
★★½/☆☆☆☆☆