Orders from Above: Mitre Recounts Landmark Trial in Lengthy Courtroom Procedural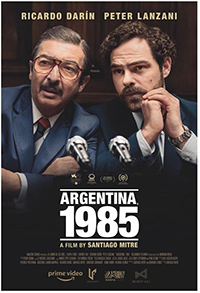 In 1976, Isabel Perón, wife of the deceased Juan Perón, was deposed as the President of Argentina in a coup d'état by the National Reorganization Process, with Jorge Rafael Videla, aka 'Hitler of the Pampas,' assuming control of a dictatorship lasting until 1983 when a democratic government was voted into power (several others would serve as interim leaders before democratic control was reestablished). Chile's dictator, Augustin Pinochet (who was doing them thing at home), along with support from the US championed by Henry Kissinger, approved this movement which resulted in a reign of terror with an estimated 30,000 members of the population disappeared, dismissed by the military junta as a logical response to quashing the stronghold of guerrillas, known as the People's Revolution Army, by any means necessary. These are some brief notes which are skipped over prior to the opening of Argentina, 1985, a peppy courtroom procedural and historical recuperation from Santiago Mitre, best known for his 2015 sexual assault drama, Paulina (read review).
Mitre drops us into the moments preceding a monumental trial, the most significant in the country's history, when the democratically elected president Raul Alfonsin would attempt to try the leaders of the dictatorship for war crimes and human rights violations after assuming power in 1983. Squabbling over the dictatorship demanding to be tried in a military court would finally segue into the case being handed over to the lone federal prosecutor in civil court, the first time such a court would be trying the crimes of a dictatorship. What unfolds over the course of two hours and twenty minutes is a condensed interplay of major players and some key survivors and witnesses who would testify over the course of several months to decide the fate of nine commanders.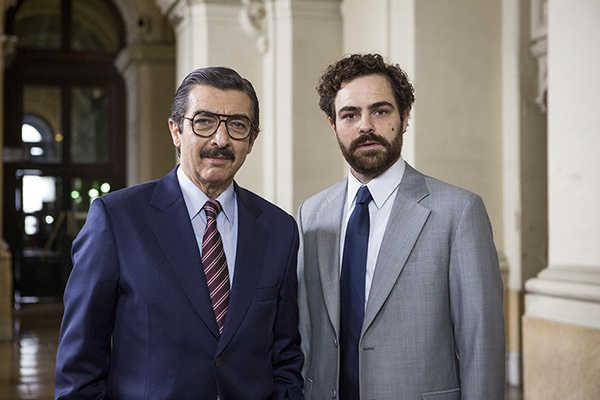 After months of gridlock, the decision to try the main players of Argentina's dictatorship (which lasted from 1974 to 1983 as part of Operation Condor) in civil rather than military court results in the responsibility falling to one man, the sole Federal Prosecutor, Julio Strassera (Ricardo Darin). With his family receiving threats while he's stonewalled in establishing a legal team due to the rampant fascisim which aligned nearly all prominent figures with the recently dissolved government, Strassero gets lucky when Luis Moreno Ocampo (Peter Lanzani), an assistant director to the Attorney General, joins the case. Though Ocampo is inexperienced, it's his idea to amass a group of impassioned youths who came of age under the dictatorship eager to see Videla and his cronies held responsible for their heinous crimes, which including brutal torture, murder, and thousands of disappeared citizens. Despite mounting threats and a lack of support from the country's most powerful members, the trial painstakingly unfolds throughout 1985.
Mitre makes an exceptional choice in casting celebrated Argentinian actor Ricardo Darin (who appeared in his 2017 film The Summit, and starred in Mitre's co-written White Elephant from Pablo Trapero, a regular Darin collaborator) as Julio Strassera, hard pressed to to find a seasoned assistant on the case. Peter Lanzani (also a Trapero alum, from 2015's The Clan) shares some decent chemistry with Darin as the conduit to the younger generation's ire in gathering an impossible amount of overwhelming evidence into a cohesive case at breakneck speed. But Mitre's script, co-written by his Paulina scribe Mariano Llinas (La Flor, 2018), begins with energetic zest and then slowly descends into a customary, cliched rhythm, exhibiting all the formulaic tendencies of the courtroom melodrama, which is unfortunate considering the devastating subject.
By the time Pedro Osuna's schmaltzy score caps Strassera's eloquent closing statement, the film has sunk to the bottom of a rudimentary crucible despite depicting a historical moment which doesn't need any such manipulation to justify its importance. The nine commanders are sneering figures in a courtroom, though an interesting element might have been exploring their roles as the instigators, and how this plays into Hannah Arendt's hypothesis on the banality of evil.
The major fault with the presentation of Argentina, 1985 is its desperation to be a crowd pleaser, relying heavily on comedic levity through interplay with Strassero's wife (Alejandra Flechner) and children. Although harrowing accounts of key witness testimony is included, there's nothing approaching the similar depictions showcasing the terrors of Pinochet, such as the intensity of Ariel Dorfman's Death and the Maiden, or another recent thriller taking place in the same period across the border, Manuela Martelli's 1976 (2022).
A neglect to mention the significant world powers which allowed the coup to remain in power also lessens the intensity and danger Strassero and his team faced in seeing this trial through to the finish. That said, as an introductory history lesson to an incredibly dark history, Argentina, 1985 can at least be a starting point for anyone absolutely unaware of the struggle to cement the country's democratic legacy. Unfortunately, Mitre strangely seems to be playing it safe, using tropes so familiar the film feels more appropriately suited for a television miniseries treatment, as equally glossy as Aaron Sorkin's The Trial of the Chicago 7 (2020). Considering Sorkin scored a Best Picture Academy Award nomination, there's no denying the resonance such elemental packaging seems to have.
Reviewed on September 3rd at the 2022 Venice Film Festival – In Competition. 140 Mins.
★★½/☆☆☆☆☆