Days of Wine & Mortgage: Weaver Soars in Drama on Denial & Redemption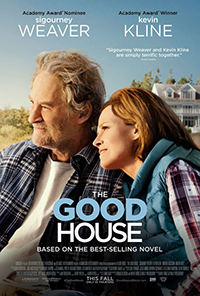 "It always begins with denial," Hildy Good announces in the opening frames of The Good House, a successful New England realtor whose personal and professional life are on the wane thanks, in part, to her alcoholism. Adapted from the 2013 novel by Ann Leary, husband and wife directing team Maya Forbes and Wallace Wolodarsky (The Polka King; Infinitely Polar Bear) craft a rare narrative centered exclusively on the interiority of a woman in her sixties whose life is swiftly crumbling.
There have been plenty of classic melodramas about alcoholism, such as The Lost Weekend or The Days of Wine and Roses, but Forbes and Wolodarsky offer something unique with a narrative initially suggesting a Nancy Meyers comedy then descending into the sobering and sinister. While the film's shortcomings include juggling a strong supporting cast as well as rushing into its heroine's third act epiphany, stumbling into contrivance and convenience, it's a one helluva blazing performance from the inimitable Sigourney Weaver, who is deliciously captivating as a fiercely intelligent woman caught in a deceitful web of her own designs.

Hildy Good (Weaver) is a realtor in Wendover, Massachusetts, an affluent hamlet on the North Shore. Divorced from her husband (David Rasche), who left her for a man and to whom she pays alimony, Hildy also financially supports their two adult daughters (Rebecca Henderson, Molly Brown). Business isn't exactly booming for Hildy, at least not since her family staged an intervention for her alcoholism eighteen months prior, sending her to rehab. Her absence allowed for her employee Wendy (Kathryn Erbe) to steal all of her clients, leaving Hildy in a financial hotspot. Although embracing sobriety at social functions, Hildy has begun a habit of drinking wine each night at home alone, which causes a renewal of romantic inclinations with her neighbor Frank Getchell (Kevin Kline), who has known Hildy since his youth. Embroiled with recent Wendover implant Rebecca (Morena Baccarin), who is carrying on an affair with the married psychiatrist (Rob Delaney), his office located above Hildy's, these intersections eventually throw Hildy's secretive tendencies into a full blown chaotic spiral.
Weaver's iconicity has never been in doubt, but like all of her American contemporaries, including Meryl Streep, opportunities for English language narratives centered completely on 'women of a certain age' are all but extinct, especially as compared to their European counterparts. While every few years some plum indie roles remind us of Weaver's range (Imaginary Heroes; The Girl in the Park; Snow Cake; Red Lights), her performance as Hildy Good is reminiscent of one of her most neglected roles, 1999's A Map of the World. We've never quite seen her like this, however, thanks in part to a gamble of a device wherein Hildy, conspiratorially breaks the fourth wall periodically.
Rarely does this theatrical flourish tend to work in cinema (for a recent example of how it grates, see Stephen Daldry's pandemic drama Together, 2021), but as delivered by Weaver, it's simultaneous interiority and a kind of deliriously sexy entry into Hildy's repressed persona yearning to break free. Often, these sequences showcase Weaver pivoting through a cascade of emotional tonalities, while, eventually, we become suspicious of their authenticity. For, past a certain point of no return, not even Hildy can 'see' her behavior anymore, leading to a trio of moments where others fill in the blanks of her blackout behaviors.
For the third time, Weaver is paired with Kevin Kline, following 1993's Dave and 1997's The Ice Storm. Forbes and Wolodarsky favor showcasing a playfulness and warmth between the two pros, whereas in previous on screen pairings, their trajectories leaned towards coldness. Kline is affable, brandishing a 'townie' accent, which further defines Hildy as a woman who had to recreate herself. However, Leary's novel more clearly defined how his social status in the Wendover community had something to do with Hildy's estrangement from him.
Though wealthy, Frank's money is blue blood, derisively referred to as 'the garbage man' due to waste management being one of his businesses. As Frank, Kline is forced to straddle these remnants while also fashioned as Hildy's salvation, but the film never sells this characterization, and how it also compromises Hildy (though it does give Weaver a chance to growl seductively, "He smells like a man").
Other characters sometimes play like Greek chorus members, like town drunk Paul Guilfoyle, or Rob Delaney's psychiatrist, reduced to a dramatic catalyst. Morena Baccarin, as fellow pariah Wendy, whom Hildy initially bonds with, is also put on a back burner. As former protege and current real estate rival, Kathryn Erbe pops up for comedic caricature. Only Beverly D'Angelo, as Hildy's boozy bestie, channels perfect characterization, perhaps nowhere better when Weaver gleefully greets her, glowing in the pleasure of brown liquor, reunited in their element.
Although a background motif, Hildy's relationship to an ancestor accused of witchcraft weaves itself into the narrative in interesting ways, a starting point for intergenerational reinterpretations of social status, mental health, substance abuse issues, and the cost of resiliency. Initially, Hildy's daughters play like the superficial cardboard cutouts of privilege Nancy Meyers so effortlessly recycles, but there's a pain and agitation eventually delivered through subtleties which feel compromised due to the lack of screen time spent with them. Weaver, however, is pitch perfect throughout, resplendent as a woman whose bid for self control robs her of it.
Reviewed on September 18th at the 2021 Toronto International Film Festival – Gala Presentations. 114 Mins
★★★½/☆☆☆☆☆