Turnin' the Beat Around: DuVernay's Poignant, Passionate MLK Portrait Revitalizes Notions of Biopic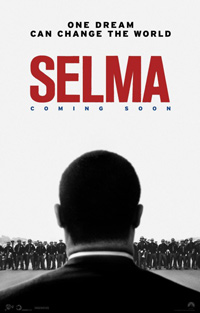 Eschewing what's come to resemble a traditional route in downplaying both the significant violence and vile truth concerning historical depictions of racial injustices, Ava DuVernay throws all the euphemisms out the window for her excellent third feature, Selma. A depiction of Dr. Martin Luther King Jr.'s mounting of the civil rights marches in 1965, DuVernay's entry is the most significant cinematic depiction of the famed historical figure to date, though the film explores only one (paramount) moment from his esteemed career. Those who may sniff at such material arriving just in time for awards superbaiting should be made aware the film is anything but a carrot poised conveniently in front of the film industry's chomping mandible. Rather, it's the kind of material that transcends such accolades whether they are bestowed upon it or not. Genuinely heartfelt, sleek but hardly simple, there's not one minute of disengagement in a film that towers powerfully over any other American film offering this year. If all the Oscar buzz materializes into awards glory, it would make Ava DuVernay the first black female to be nominated in this particular field (which means she would join a shortlist of only four other women, ever, to be nominated).
Opening with Dr. Martin Luther King Jr. (David Oyelowo) accepting his Nobel Peace Prize, with wife Coretta Scott King (Carmen Ejogo) at his side, we cut to the vicious bombing of a Birmingham church, followed by a woman (Oprah Winfrey) once again turned away from the registrar's office as she's erroneously denied her right to vote. It's here that we volley through a series of dialogues and negotiations pertaining to King's wish for President Lyndon Baines Johnson (Tom Wilkinson) to create federal mandates outlawing all the factors that have been denying the black community the right to vote. With LBJ devoting all his energy to the growing conflict in Vietnam and the FBI (Dylan Baker as the calculating J. Edgar Hoover) doing their best to undermine King's home life, it is decided that the town of Selma is the opportune locale for the movement to strike.
While DuVernay inherited a project that once belonged to Lee Daniels, she's made it her own property. A director that's already achieved an incredible body of work with previous indie films I Will Follow (2011) and award winning Middle of Nowhere (2012), Selma sees her expanding her range significantly yet still remaining attentive to careful constructions of characterization. Working from Paul Webb's original draft, DuVernay spins what was once a narrative as seen from the perspective of LBJ into an eloquent and incredibly intelligent screenplay, gracing us with something not often squeezed out of historical reenactments—the genuine human element.
As King, Oyelowo is magnetic. Long a supporting presence in a wide variety of films (including "Nowhere"), his performance as King will be one of his most notable achievements. If we have to compare this to any other awards contenders, there simply is no competition in the level of sincerity and commitment considering the weight of King's legacy. And as eloquent and incredibly moving as his thunderous speeches are, it's the level of warmth evident in the film's quieter interactions, such as listening to a young man relay horrific experiences he's witnessed or speaking with a man (Henry G. Sanders in a small, powerful role) who's just lost his grandson due to police brutality that remain resoundingly memorable. In dealing with complications with his marriage, DuVernay tastefully relays King's infidelities with a touching turn from Carmen Ejogo as Coretta Scott King. Used as a wedge on King's home front as a tactic from the FBI, it's intriguing (and important) that it's included here, a tactic that defuses any power or sway these petty details have over the importance of King's actions and legacy.
The supporting cast is equally stellar; a tapestry of faces and names whirled into a mix with incredible finesse. As a voter denied her right to vote, the visage of Oprah Winfrey haunts the frame in several instances, while the luminous Lorraine Toussaint and even an unlikely Neicy Nash provide fleeting, yet illustrious moments. As Lyndon Baines Johnson, Tom Wilkinson is customarily superb, if a bit buffoonish, a man initially uninterested in openly supporting the civil rights movement, while Tim Roth is satisfactorily unpleasant as Alabama governor George Wallace. Others, like Common, Tessa Thompson, Martin Sheen, Dylan Baker, Cuba Gooding Jr., and Giovanni Ribisi, also inhabit the landscape. These are the types of faces that aren't given the opportunity to distract, instead utilized to maximize the importance of the subject at hand.
Filmed quickly and efficiently, DuVernay employs returning DoP Bradford Young (who has done amazing work on titles like Pariah, Mother of George, as well as A Most Violent Year) and regular editor Spencer Averick, both talents responsible for the film's streamlined execution and instances of bold visualization. Violence and dread are effectively used, creating a constant flux of knee-jerk revulsion juxtaposed with the incredibly moving depiction of inspiring, poetically rendered humanity. And while the echoes of MLK and the 1965 march from Selma to Montgomery seem vibrantly important in a time that still sees black people in America treated untowardly, where blatant racism hides unchecked within rhetoric and passive aggressive dialogues, Selma is actually only able to reach such heights because it's made, painstakingly, with genuine, deliberate care. And DuVernay and Webb expect you to come a bit prepared, choosing (thankfully) to avoid taking time to flesh out every detail, such as the rise of MLK or the bombing of a Birmingham church (which opens the film) and kills four young black girls.
Every word, action, and composed frame has been carefully attenuated, from an arresting close-up of Winfrey as she lurches backwards in a howl of rage on the concrete, to the bird's eye shot of masses triumphant on the Edmund Pettus Bridge, Selma is the kind of expert filmmaking that's long been absent from an American tradition of historical reenactment—it manages the forgotten art of depicting the graceful human beings that made it history in the first place.
★★★★½/☆☆☆☆☆