Love & Marrow: Sanchez Rattles Familiar Skeletons in Vintage Themed Debut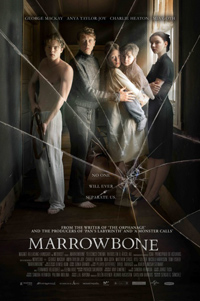 Spanish screenwriter Sergio F. Sanchez consults the bones for his directorial debut, Marrowbone, an English language period piece which feels inspired by vintage YA pulp fiction. Having penned high-profile scripts for J.A. Bayona (including 2007's The Orphanage and 2012's The Impossible), Sanchez concocts a moody, if ultimately uneven hodgepodge of genre tactics to relay a somewhat foreboding tale of distressed siblings attempting to fend for themselves within the confines of their crumbling familial manor whilst the community they live in blatantly ostracizes them thanks to some rather morbid details concerning their father.
If Sanchez had perhaps whittled down some of the tangents a bit more judiciously (supernatural elements and a late staged romance don't offset the familiarity of a final twist), perhaps this dark saga would have at least felt a little more streamlined. With a script a bit too busy bodied for its own good, and without ever reaching beyond its defining yet superficial ideas, Sanchez's debut gets lost in its own ambitions with a narrative which seems to beg for something more efficiently malicious or malevolent.
Sometime in the late 1960s, Rose Fairburn nee Marrowbone (Nicolas Harrison) brings her brood of children to the desolate and abandoned rural mansion which belonged to her family. It's clear they are desperately in need of a fresh start, as evidenced by immediately resorting to her familial surname in an effort to distance themselves from some atrocious history involving their absent father. However, when mom becomes terminally ill, it's up to eldest son Jack (George Mackay) to fend for younger siblings Billy (Charlie Heaton), Jane (Mia Goth), and Sam (Matthew Stagg). A stash of ill-gotten cash located in the home helps Jack stay afloat despite some nagging pressures from the locals, including a flippant lawyer (Kyle Soller), but other presences seem to be plaguing the homestead as well. Valiantly trying to ignore whatever supernatural forces are causing strange happenings in the house, which requires the children cover all the mirrors, Jack tries to maintain a tender romance with librarian Allie (Anya Taylor-Joy), who is attracted to the troubled young man.
In many respects, Marrowbone, thanks to its period American setting, recalls a variety of classic 70s era genre fiction and cinema, such as Laird Koenig's The Little Girl Who Lives Down the Lane or even Thomas Tryon's The Other (both which were made into obscure yet deliciously cult cinematic adaptations). The incredibly dysfunctional family hiding out in a dilapidated mansion has long been its own regular trope, and one wishes Sanchez had stepped out into more outlandish, even exploitational territory (like Jack Hill's 1967 Spider Baby, for instance). Instead, we're left with a feeling of constricting aristocracy, at least in the presentation of candid nobility as constantly displayed by British actor George Mackay, who is here doing another variation on his character/situation in 2016's Captain Fantastic.
Perhaps a greater folly is how Sanchez's screenplay neglects any real development between his other siblings, as played by "Stranger Things" star Charlie Heaton and Mia Goth (of A Cure for Wellness and the upcoming Claire Denis film), who seem ripe for at least a hint of sordidness from the realm of V.C. Andrews. Mixture with two solo local elements, including Kyle Soller's lawyer, who is merely a dramatic catalyst, the period-friendly Anya Taylor-Joy (The Witch, 2015; Split, 2016) stands out as an ambient source of discomfort—and yet, Sanchez also denudes her of any real import beyond a pretty girl who attracts the attention of the dubious protagonist. Initially interesting, Marrowbone, despite its eerie title, ends up being a bit too tepid as it tries to balance too many vague tangents.
★★/☆☆☆☆☆