Preaching to the Choir: Marston Tackles Modern Heresy in Orthodox Glance at Evangelical Hypocrisy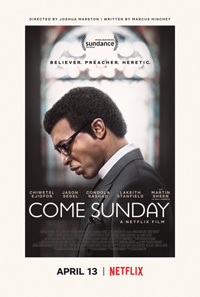 There are numerous epithets various strands of Christianity tend to utilize as regular mantras meant to provide evidence of their generous spirits, such as "Love the sinner. Not the sin." Or perhaps the ever popular, "Judge not less ye be judged." Often, these are simply superficial throwaways, mere lip-service of progressive attitudes which immediately fall to the way side when their beliefs are challenged or threatened. Such is the display of fair-weathered faith in Joshua Marston's fourth feature film, Come Sunday, which relates the true trials and travails of evangelical Bishop Carlton Pearson, who in the late 1990s caused waves amongst his religious community in Tulsa, Oklahoma when he announced God spoke to him and confirmed all souls are eligible to be received in heaven, whether they accept Jesus Christ as their lord and savior or not (which also negates the threat of hell, a punishment which has kept communities frozen in antiquated fear-based decision making for centuries). Denounced as a heretic for his vocalizations, Marston aims to use the Bishop's tribulation to tell a powerful allegory on the importance of inclusivity. However, his summarization of Pearson, scripted by All Good Things (2010) scribe Marcus Hinchley, feels a bit as if its preaching to the choir.
Celebrity evangelical megastar Bishop Carlton Pearson (Chiwetel Ejiofor) is a local icon in Tulsa thanks to his successful television show, broadcast from the pulpit of his celebrated megachurch, a platform which unites the black and white community through his fundamentalist rhetoric. When the tragic death of his uncle (Danny Glover) leads to an epiphany about what being 'saved' and 'born again' means, Pearson is immediately sanctioned and ostracized by the religious community who balks at the suggestion there may not be a hell. Pearson's convictions lead him and his family into troubled times, but his bravery ends up blossoming into a more hopeful, progressive dogmatic faction where all are welcome despite their sins.
While Pearson's adamant declaration of his message from God may remain a dubious point of contention for certain audiences, it's his conclusion which remains important, and is ultimately a logical approach to basic humanity born from the combination of his uncle's suicide and the Rwandan genocide he sees pasted all over the news. The push and pull between Pearson's partner (a somewhat lackluster Jason Segel) and his mentor (a rather fitting Martin Sheen), who demand he recuse his wonton statements about God's guest list, takes on a sort of watered down pallor of an episode of "Greenleaf" but without the relieving moments of camp and narrative convenience.
Ejiofor remains a soothing but commanding presence throughout, and he sells the hell out of his character's emotional yet conflicting depths. Condola Rashad, daughter of Phylicia, sometimes seems a bit too young to play the First Lady of his mega church until we come to find the back story of their arranged marriage. Where Come Sunday manages to get into some topical areas of import come courtesy of a mournful performance from Lakeith Stanfield, a devoted acolyte of Pearson's determined to overcome his homosexuality while meanwhile battling the ravages of AIDs.
The lessons Pearson learns after suffering the slings and arrows familiar to any social pariah leads to a poignant, if rather expected and simple conclusion, and at least provides the groundwork for a fitting message of hope, equality and acceptance for all. While some may find Come Sunday a bit preachy, and others impatient with its mannered progressiveness (we are a long way from the likes of T.D. Jakes' Woman Thou Art Loosed, at least), there is an audience for which Come Sunday will strike some chords (obviously, a lack of queer black characters allowed to navigate their own self-loathing caused by adverse social expectations makes this an automatic item of interest). But for anyone whose lives have been adversely affected by the views and perspectives of those who claim to be flexing their 'religious freedoms,' Pearson's odyssey may have a more difficult time convincing them of its merits.
Reviewed on January 20th at the 2018 Sundance Film Festival. Premieres Program. 106 Mins.
★★½/☆☆☆☆☆