Usual Suspects: McDonagh Gives Us a Light Killer Comedy With Latest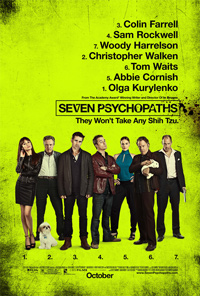 Written before his hit film In Bruges (2008), Martin McDonagh has landed with another tongue-in-cheek comedy, though perhaps not of the same caliber as his first film, with Seven Psychopaths. Featuring a deliriously exciting cast of characters for his newest band of misfits, the mostly winning film employs us with dueling dynamics, both as a film about the filmmaking process and having its characters actually live the film they're writing. While it perhaps doesn't have quite the sarcastic edge as it may be trying to employ, it has as many flashes of comedic excellence as it does brutal violence.
Marty (Colin Farrell) is a struggling, alcoholic screenwriter trying to pen his latest idea concerning seven psychopaths…only he's anti-violence and wants to make the film about peace and turning the other cheek. Marty's best friend, Billy Bickle, wants him to finish the screenplay by any means possible, and is constantly looking to inspire him, though he is at odds with Marty's distant girlfriend, Kaya (Abbie Cornish). Billy really wants to Marty to invite him on as cowriter, but the two have opposing ideas about the depiction of violence. And it's Billy who keeps giving Marty ideas for psychopaths, both by using a current Los Angeles serial killer known as the Jack of Diamonds Killer and by telling him a crazy story about a vengeful Quaker. Billy's an actor, but between gigs runs a dog catching scheme with Hans (Christopher Walken). But the duo kidnaps a Shih Tzu one day that happens to belong to a violent gangster (Woody Harrelson) and soon all three of them are running for their lives trying to figure out how to get Bunny off their hands. On the way, Marty gets plenty of input on his growing script idea from Billy and Hans….but happens to find out that some of Billy's stories may not just be urban legend. A meeting of psychotic minds would seem to be inevitable.
Hands down, the number one reason to see Seven Psychopaths is a kooky, hilarious turn from Christopher Walken, giving us the funny side of his famed persona. Oh, and Sam Rockwell gives a zany and memorable turn as Marty's friend, and you can guess what Bickle is an ode to. As Billy and Marty hammer out ideas for the script, their opposing views create the second half of the film, with Marty wanting to pen a formulaic action film that turns into three guys camping out in the desert for the climax (which, they actually get to do).
Of course, Billy's insistence on a violent, explosive shoot-out has to be taken into consideration as well. Hans criticizes Marty's inability to write women characters, claiming none of them are even able to put a sentence together. Likewise, the three females of Seven Psychopaths (Gabourey Sidibe, Olga Kurylenko and Abbie Cornish) are all given short shrift. And there's also a delicious subplot involving Tom Waits as a rabbit carrying weirdo who responds to an add Billy runs calling for psychopaths to share their personal stories. For as meta as the film ends up being, it feels decidedly short on lasting substance, and often feels like a series of scenarios sewn together by a great group of funny guys having a good time. Certainly, it doesn't better McDonagh's previous excellence, but it's a slick little joy ride that manages to gives us another great incarnation of the one and only Christopher Walken.
Reviewed on September 07 at the 2012 Toronto International Film Festival – MIDNIGHT MADNESS Programme.
109 Min