Reviews
Shores of Hope | TIFF 2012 Review
Back in the GDR: Hebbeln's Debut Feature Revisits Political Turmoil of East Germany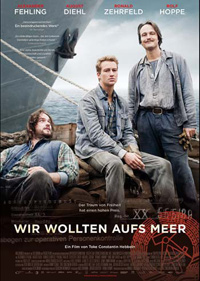 Writer/director Toke Constantin Hebbeln follows up his 2006 short film Nevermore with this Stasi inspired period piece, Shores of Hope (aka No Man's Land). A tale of the East vs. West struggle disguised in a drama concerning the separation of two best friends as they try to attain their goals as dock workers in 1982 Rostock, Hebbeln manages to conjure up some minor dramatic tension with this witch hunt scenario, but ultimately, ends up failing us with a by-the-numbers narrative arc.
Conny (Alexander Fehling) and Andreas (August Diehl) are two wannabe dock workers in Rostock, having a dream to get out of the rigid political climate of East Germany and work out on the sea. But soon after being hired, they realize that getting off the docks and on a ship out to sea requires more than hard work and honest intentions. After three years have passed, Conny and Andreas get an opportunity for ship work, but only if they agree to snitch on Conny's foreman, Schonherr (Robert Zehrfeld) who is suspected of being on the verge of defecting to the West. Their task is simple: capture Schonherr confessing his plan on tape. Since the foreman trusts Conny, they manage to get their booty, but at the last moment, Conny realizes this is not the honest way to get out to sea and he destroys the tape. And thus, a rift is driven between Conny and Andreas, who is more than willing to sell out the foreman to achieve his own dreams. When Andreas eventually rats out Schonherr, a major fight between the friends finds Conny trying to flee to Switzerland with his Vietnamese girlfriend and Andreas taking a job in informant recruiting. Conny is captured and sent to the same prison which houses Schonherr. Back home, Andreas does his best to destroy Conny's distant relationship with Mai Phuong, who has escaped to Hamburg. But as years pass for Conny in prison, he finally realizes that Andreas may not be the friend he thought he was and that he must decide if death may be the desired alternative to a "free" life in a surveillance state.
Shores of Hope sees the talented Alexander Fehling once again taking up lead duties, and does indeed provide him with a better role than 2010's didactic Young Goethe In Love, in which he starred as the young author (Western audiences may recognize him for a small role in 2009's Inglourious Basterds). But try as he may, he never quite gets to be a fully realized character, saddled here in glorious martyrdom. He's got enough screen presence to overlook this during a mostly engaging first half of the film, but by the time we realize just how predictably this will all wrap up, he's as forgettable as the rest of the film. August Diehl is once again playing a standard weakling and self-serving evil doer. Having also appeared in Basterds, Diehl may perhaps be best known as Angelina Jolie's spider loving distraction of a husband in Salt (2010), and he's used similarly again here, an easy target of dislike and disdain. There's certainly some interest in the interracial romance of Mai and Conny, but once our hero lands in prison, the narrative also gets locked down and loses any minor buoyancies it had previously mustered.
Shores of Hope is certainly a handsomely mounted piece of filmmaking, the moody and austere hues of the stodgy surveillance state exudes menace and foul intention in nearly every scene, which we can credit DP Felix de Novo Oliveira for. Co-written by Hebbeln and first time screenwriter Ronny Schalk, one can't help but wish something more ingenuous couldn't have been concocted for their lackluster finale, which, though realistically dismal enough, can't escape a sour note of apathy.
Reviewed on September 08 at the 2012 Toronto International Film Festival – CONTEMPORARY WORLD CINEMA Programme.
116 Min