Earth Below Us: Plotnick's Debut a Sweet Space Soap Opera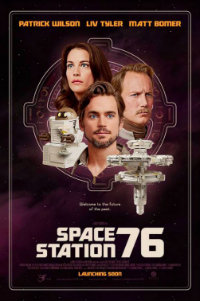 Those familiar with the comedic genius of Jack Plotnick should be thrilled to see his directorial debut, Space Station 76, based on a stage play he co-wrote. Bearing his particular brand of subversive, offbeat humor, it's a space set soap opera made as if it were in the 1970's and meant as an homage to those classic films from the time period that inventively attempted to visually prophesize the space age. Regularly featured in the films of Quentin Dupieux and television series, 'Reno 911," Plotnick's perhaps best known for the sorely underrated spoof, Girls Will Be Girls, so many may be surprised at the sometimes melancholy tone underlying this film's more capricious moments. More of a space age melodrama reflecting nostalgia for a bygone era of storytelling in its mixture of vintage and modern tone, it's as sweet, sad as it is often laugh out loud hysterical.
In fueling station Omega 76, Captain Glenn (Patrick Wilson) has recently lost his second in command, Daniel (Matthew Morrison). It appears Glenn and Daniel had a secret relationship, which caused severe conflict for the closeted captain. The rest of the crew is unsure if family problems or a promotion caused Daniel's absence, and they warily receive his replacement, the quiet and sincere Jessica (Liv Tyler). Women in positions of power are still uncustomary in their era, so her arrival ruffles some feathers, particularly Misty's (Marisa Coughlan), a Valium addict trying to break out of her housewife existence to the ship's mechanic, Ted (Matt Bomer). Ted, along with their daughter Sunshine (Kylie Rogers), takes a liking to Jessica, which begins to cause Misty great mental anguish. Furthering discord amongst the crew, Donna (Kali Rocha) and Steve (Jerry O'Connell) get to leave the fueling station for a greater ship in the sky due to his scoring the promotion Ted's been pining for.
Much love went into the production and costume design of Space Station 76, even as some of its cheesier aspects such as the CGI asteroids that open the film, might initially prove otherwise. Tyler's melancholy opening monologue explains how human trajectories cannot be the same as these floating dead rocks, as much as we sometimes wish they could be.
It's a rather somber and understated performance from the willowy Tyler, her big eyes looking as if they could well-up with tears at every conceivable moment. There's an actual tenderness that develops between Tyler and Bomer, though their shared scenes create an altogether different kind of energy from the other characters, as if indeed this was the episode of some cheesy television series whirring back and forth between the banal subplots of its human characters. Though he's only in one scene, and mostly unrecognizable in the 'videophone' we see him on, Keir Dullea of 2001: A Space Odyssey is an exciting, if almost lost accent as Tyler's father.
Stealing nearly every scene is Marisa Coughlan as the medicated Misty, in therapy with the resident therapist, an actual robot named Dr. Bot, whose diagnoses are culled from word correlations. Most of the film's laughs are owed to her delicious comedic timing. The sometimes wearisome Wilson also earns some laughs, his closeted space captain on the precipice of suicide, constantly besotted by the ship's remedying of every situation.
The crew's chronic dysthymic rhythms reach a crescendo at the Christmas party for a minor battling of wills. As entertaining as it all is, Space Station 76 ends on a note of wistful longing, the lonely and confused future/past humans drifting along in their contained environment, experiencing the same earthbound issues even though they're far, far away.
Reviewed on July 20 at the 2014 Outfest Los Angeles LGBT Film Festival – Closing Night Film
★★★½/☆☆☆☆☆