Jostling Juvi: Bercot's Take Familiar Stance on the System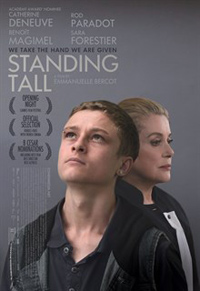 Exploring a few too many problematic delinquency issues than it can rightly address, Emmanuelle Bercot's Standing Tall (La Tête haute) reaches solid emotional plateaus within its belabored and all too familiar scenario. Opening the 2015 Cannes Film Festival, only the second female director to ever do so in the fest's history, its selection is in regard to the film's messages concerning tolerance in the wake of last year's horrific Charlie Hedbo shootings. And Bercot's film certainly seems to be making some clear points, even if it creates other logical problems in this exploration of one wild child's thrill ride through France's juvenile justice system. Likeable performances from notable cast members thankfully avoid schmaltzy tendencies, for the most part, and Bercot scores her greatest points with newcomer Rod Paradot.
We meet Judge Florence Blacque (Catherine Deneuve) as she's chastising Severine (Sara Forestier) in her chambers. A single mother of two, Severine is unable to control her older six year old boy Malony. Emotions rise and Severine storms off, abandoning the boy in the judge's office. Ten years pass and Malony (Rod Paradot) is about to turn sixteen and now has quite a record. Known for stealing cars, he's once more thrust into Blaque's quarters, who attempts to show the problem child a bit of lenience. Wearing down his previous counselor, Malony is reassigned to Luc (Benoit Magimel), who relates to the boy's issues. Assigned to a juvenile retention center, Malony shows emotional growth, but his situation at home continues to aggravate his stunted ability to deal with anger.
Gaining immediate comparisons to films like Starred Up, as well as Polisse (which Bercot starred in) and the Dardennes' The Kid With a Bike (especially with how Bercot uses a particular piece of classical music repeatedly), there's not much new going on in Standing Tall, and, it's actually less gritty than those referenced comparisons. At a running time of two hours, we get our fill of violent outbursts, teary shrieking, and contorting faces. So much so that by the time we get to the latter half of the film and rather interesting romantic subplot between Malony and his doppelganger girlfriend Tess (Diane Rouxel), we're already a bit tired of the trajectory, which blasts off into a climactic instance of drama that we've been expecting all along.
Mixed messages regarding the support system we all need to lead a worthwhile or balanced existence get lost in problematic interpretations of the necessity of family, and the restorative power of procreation (at least assuming how many will read it). Some of this is forgivable thanks to the emotive performance of Rod Paradot. Other supporting players will most likely be appreciated by their fan bases.
The still captivating Deneuve gives an invested performance as the warmhearted judge, reuniting with Bercot after their 2013 endeavor, On My Way, another familiar scenario that suffered from recurrent tropes. Perhaps if Judge Blaque had been given a bit more backstory she would have seemed a more impressive character. The same can be said for Magimel, impressive in some highly charged emotional sequences that could have been more enhanced.
People will either love or hate an off-the-wall Forestier, gnashing a set of brown teeth between grammatically incorrect sentences and spasms of well-intentioned gushes as Malony's trashy single mom. Moments of comedy, both intentional and not, factor into Standing Tall thanks to Forestier, and it seems the kind of role that may be honored come next year's Cesars.
A film that isn't without its merits, Standing Tall feels like a logical progression for Bercot, who previously helmed the entertaining feminine psychodrama Backstage (2005) and the timidly familiar On My Way (2013).
Reviewed on May 13 at the 2015 Cannes Film Festival – Out of Competition: Opening Film. 120 Mins.
★★★/☆☆☆☆☆