Dear Evan Hansen | Review
Letter from an Unknown Human: Chbosky Hits False Note with Musical Adaptation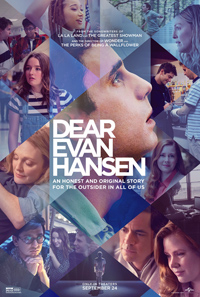 Now navigating its third medium following the publication of Steven Levenson's novel and a hit Tony award winning musical, Stephen Chbosky's adaptation of Dear Evan Hansen hurls it all into a wall with an ill-conceived, tone deaf cinematic version. Demonstrating key differences in how material might succeed as a stage play yet fail as a film, this well-intentioned essay on grief, teen suicide and mental health issues tries in vain to avoid grappling with queasy foundational attributes and awkward narrative catalysts. Whereas certain suspensions of disbelief might be possible on stage, such is not the case on celluloid, beginning with the glaring inclusion of the titular character's Broadway originator, by now a decade too old to believably harness the teenage wasteland on which the whole shebang is perilously predicated.
Evan Hansen (Ben Platt) suffers from Social Anxiety Disorder and lives alone with his hardworking mother, Heidi (Julianne Moore). Entering his senior year in high school, Evan keeps to himself, apart from a 'family friend' named Jared (Nik Dodani), forced to interact out of obligation. As part of his therapy, Evan is tasked with writing letters to himself, daily affirmations of positivity. While printing one such letter at the school library, he experiences a second tense interaction with Connor Murphy (Colton Ryan), another troubled teen who is angered at Evan's letter, as it mentions his younger sister Zoe (Kaitlyn Dever), whom Evan is infatuated with. Connor runs away with the letter and days later, Evan is called to the principal's office to meet Connor's parents (Amy Adams; Danny Pino), where he learns Connor committed suicide. His parents believe the letter found on Connor was a suicide note intended for Evan, and unable to correct them in their grief, he goes along with an increasingly complex charade wherein they believe he was Connor's secret best friend. Eventually, the community response to Connor's suicide brings him attention and acclaim he'd never received—-until it all spins out of control.

Strangely, the musical cues, meant to instill a sense of interiority for Evan Hansen's characterization, feel oddly out of sync. Interrupting the hard won emotional truths, few and far between thanks to members of the supporting cast, Platt's sing-acting tends to stop everything dead in its tracks, including co-stars often shuttered into quietly observing him whilst Evan belts out his tunes, many which run together in a tonal fabric tending to sound an awful lot like B-sides from The Greatest Showman (which one of the film's composers, Justin Paul, also contributed to). Because the entire impetus for the production sags like an under baked cake, it tends to highlight the significant faults of the narrative, which largely avoids digging into the white privilege defining it. The script's navigation of teen mental health, likewise, feels woefully superficial as pertains to both Evan and Connor, vulgar caricatures of contemporary teenagers unable to find healthy avenues of support.
Although adolescent characters are historically portrayed by actors too old for them (Steve McQueen in The Blob; Rachel McAdams in Mean Girls, and on and on), Platt seems particularly egregious, thanks in part to Chbosky's inability to channel what's supposed to make him compelling (here's a hint—it's the complex, insidious rationale for his charade).
The bones of Dear Evan Hansen have the marrow of pure film noir, tropes of stolen identities (No Man of Her Own; The House on Telegraph Hill, and on and on), which segued into, of all things, romantic comedies (While You Were Sleeping; Mrs. Winterbourne), and all but require some sort of reconciliation, which never transpires. Evan owns up to his actions, but there are little to no consequences, and the devastating effects his white lie would likely have on Connor's family conveniently swept under the rug.
In essence, Chbosky has crafted teen trauma porn, wading through layers of grief performance which, instead of seeming meta, feel like nefarious reflections merely enhanced by social media. Amy Adams has a moment or two where she breaks out of a caricature straitjacket, but really only Julianne Moore (sans a singing segment) manages to channel anything authentic as the working class mother who's able to see things for what they are.
Aiming for cutesy humor when it should be bluntly examining the eclipsing totality of white, cis-het narratives, and how mental health issues shouldn't generate discussions shaped into pissing contests on trauma, Chbosky whips up a total schmaltz fart of a film.
At even the laziest of glances, Amandla Stenberg's unbelievably altruistic Alana and Nik Dodani's stereotypically smug Jared, arguably, represent viewpoints necessitating examination as Evan's black and gay counterparts—-or at the very least, be utilized as juxtapositions for how easily Evan dives headlong into a disastrous ruse, and what kind of subversive subtexts could be (should be) mined. Take for instance a sequence where Alana 'outs' Evan as a fellow medicated teen—the kind of potency this plays with is woefully underutilized, especially in the unsaid commentary about contemporary fluctuating social stigmas. Unpleasant and ultimately disingenuous, Ben Platt may be an impressive vocalist, but this is a characterization gone to seed.
★½/☆☆☆☆☆