Reviews
Stranger By the Lake | Review
Wet Hot French Summer: Guiraudie's Bold, Scintillating New Film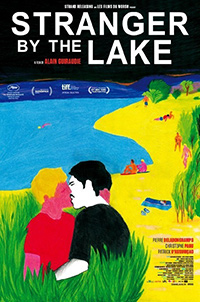 Idiosyncratic filmmaker Alain Guiraudie is set to take the art house by storm with his bold, unsettling, and provocative new film, Stranger By the Lake. Already infamous after its Cannes premiere for its graphic and blatantly nonchalant depictions of gay sex, Guiraudie may be one of the few voices to tread bravely in the footsteps of Derek Jarman with this latest film, transcending polite labels like homoeroticism for an honest, introspective, and even morbid portrait of normative tendencies in the sexual lives of gay men. Perhaps most astoundingly, he manages to create a non-judgmental, even moving portrayal of the search for acceptance, love, and creature comfort over the course of one sun baked summer on the gay side of the beach—albeit it one darkly foreboding one.
We first see a handful of cars parked lazily within a secluded wooded area, the owners a group of random men that we learn are nearly all (intimate) strangers that frequent what seems to be a secret nude beach for gay men, with the surrounding forest serving as a convenient cruising area. A romantically inclined regular, Franck (Pierre Deladonchamps), is out of work and currently has nothing better to do with his time.
An affable and curious fellow, he quickly spies a new stranger at the beach, a man who isolates himself off on the rocky terrain. Introducing himself to the portly man, Franck learns that Henri (Patrick D'assumcao) is a recently single husband from a heterosexual marriage that seems to be making new discoveries about himself. A portly and rather shy logger, Henri is cautious about speaking to the other men, but finds himself drawn to Franck. But Franck has designs on the newest stud at the beach, a Tom Selleck doppelganger named Michel (Christophe Paou), who seems to share mutual feelings for Franck. The only trouble is, Michel already has a hook-up date in the woods and so his minimal flirtations with Franck are often thwarted. But late one night, after the sun sinks below the horizon, Franck stays in the woods, voyeuristically observing Michel goof around with his clingy fuck buddy and happens to witness something horrible, which results in the drowning of the other young man. Instead of running to the police, Franck stays quiet, appalled yet perhaps even more attracted to Michel, with whom he finally strikes up an intense sexual relationship with, spiked with an uneasiness that intensifies after the dead body is discovered. Suddenly, an omnipresent and rather droll detective (Jerome Chappatte) starts to hang around the area, souring the escapist antics at the beach.
What perhaps is most unsettling about Stranger By the Lake is Guiraudie's bluntly underlying commentary on the sexual lives of gay men, here using a cruising area as a microcosm to show these group of men continuing to satisfy their sexual urges without giving much thought to the possibility of a faceless killer among them. It's darker recesses already drawing comparisons to material like William Friedkin's 1980 Cruising, Guiraudie's slow burn romance thriller is more akin to the work of Claude Chabrol, perhaps most evidently his 1970 classic, Le Boucher, in which Stephane Audran's school teacher develops an attraction to the Jean Yanne's murderous butcher. While many will criticize a handful of quite explicit sex scenes on display, Guiraudie avoids the exploitative and judgmental. Rather, he creates a dizzying portrait of both the freedom and possible obsessive addiction that can be found in this infrequently explored setting.
Working from his own astutely written screenplay, Guiraudie creates a wholly believable sexual fixation between Michel and Franck, that latter who has ulterior romantic ideas concerning their coupling, even though he's well aware of what Michel is capable of. And the expert use of the humorously dry detective as the outside observer attempting to understand the social mores and understandings between these men asks the questions we're all wondering, in that why does no one seem to be looking out for each other? Why is self preservation not a thought for Franck? In one of the film's most touching segments, the detective aggressively confronts Franck one last time, commenting that the gay community shows a funny way of loving one another.
As tensions thickens between Michel and Franck, Guiraudie creates some genuinely unnerving night time sequences and Claire Mathon's cinematography's sun soaked beach paradise suddenly gives way to horror in the deep woods. While Western eyes are perhaps most familiar with Guiraudie's 2003 film, No Rest For the Brave, this controversy courting title should definitely have the talented director's name at the tip of everyone's tongue, as Stranger By the Lake hearkens back to an era of daring cinema too rarely seen today. Of course, the title can be taken to have delightful multiple meanings, and certainly, things definitely get stranger by the minute. If there's any justice, it won't be regarded as simply one very racy queer film.
Reviewed on May 17th at the 2013 Cannes Film Festival — Un Certain Regard.