Reggio Looks Into The Eyes Of The Audience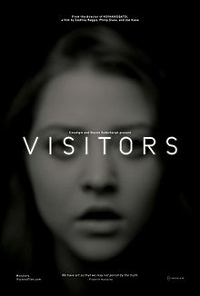 Steven Soderbergh was right when he said at the premiere of the film, a hundred people could watch this and walk away with a hundred different reactions. Now, this should be expected from the filmmaking team that, over the last 30 years, released the eponymous experimental eco-minded Qatsi trilogy, and yet, their latest collaboration is but a distant cousin of their previous films. While the Qatsi features examined America's relationship with nature, third world exploitation and cultural consumption, respectively, Visitors forces us as viewers to stew on the nature of viewing via the reciprocal gaze.  In doing, we begin to expand our notions of being in regards to the world at large.
Unlike the sometimes kinetic pace of Reggio's previous work, this is the definition of meditative. Shot lengths average around the 70 second mark, holding still on the slow motion movement of beautifully lensed black and white facial close-ups. Children make up the majority of those cast, but age varies from the weather worn faces of the elderly to that of sport-frenzied twenty-somethings cheering and jeering for an off screen unknown. Nearly all of them stare directly into Reggio's lens, some blankly, some nervously, some seemingly in pain, some playfully in awe. We witness the emotion on their face shift in response to what feels like us as the audience viewing them, and though there is no pretense which prompts us to do so, we almost feel responsible for their physical retorts. As we are watching them, it seems as though they are also watching us, the onlooking members of the audience.
The camera also finds itself trained on immense man made structures, most of which happen to be in what looks to be an abandoned amusement park, but while the Qatsi films showed time passing with hyper-speed, time lapse with the movement of humans in their constructed habitat, this film employs time lapse and pairs it with gracefully slow camera movement that rarely shows any living being. The effect is chilling, creating the feeling that years, not hours, are passing before our eyes. These gorgeously lensed yet harrowing images – that of a wire framed steel globe, literally empty, particularly comes to mind – are in direct contrast with the emotional depth of the human face.
Reggio's intention was to inflict the audience with the film's pensive nature, but I'd argue that for those patiently attune to Glass's compositional mastery and the reflective nature of the collaboration found on screen will find Visitors to be something of a meditative masterpiece of our observational times.  With stunning allure, the filmmakers remind that our relationship with the big screen is indeed an emotionally reciprocal, yet sadly, often detached one.  Among the many insights that can be gleaned from Reggio and Glass's latest opus is that we only have so much time on this Earth of ours, and if we intend to spend much of it before a big screen, we best make it worth it. After all, we are all just visitors in the end.
Reviewed on September 9th at the 2013 Toronto International Film Festival – Special Presentation Programme. 87 Min.