Female Misbehavior: Gavron's Noble Depiction of British Women's Suffrage Movement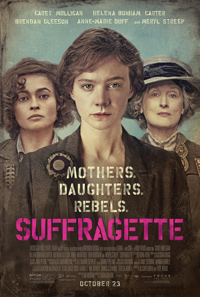 There's much to admire in Sarah Gavron's sophomore directorial effort, Suffragette, a turn-of-the-century snapshot of the British Women's suffrage movement as the struggle for the right to vote considerably intensified against the patriarchal code. Enhanced by some superb performances from its talented cast, there's a surprising degree of dramatic potency for a vehicle specifically calibrated to convey a cumbersome and obvious message, even as it stacks an overwhelming amount of tension on the back of its lead protagonist, balanced magnificently by its star, Carey Mulligan.
Reuniting with the screenwriter of her 2007 debut Brick Lane, Abi Morgan (who penned McQueen's Shame, as well as The Iron Lady in 2011), Gavron concocts a rather conventional snapshot of a struggle for equality still being exacted, to varying degrees, across the globe.
In 1912 London, laundrywoman Maud Watts (Mulligan) works in the same backbreaking establishment she was born into and alongside her perfectly milquetoast husband Sonny (Ben Whishaw). Recently, she's been made aware of pioneering women's activist Emmeline Pankhurst (Meryl Streep), who has been forced into hiding to avoid arrest by the authorities for championing civil disobedience to secure women the right to vote. The Women's Social and Political Union (WSPU) has recently visited the laundry, and after befriending a fellow colleague (Anne-Marie Duff), Maud finds herself testifying in Parliament during a bid to amend the voting-rights bill. The fallout for Maud is significant—not only does Parliament deny the motion, but she also finds herself estranged from her husband, who kicks her out of the house and denies access to her son. With nothing else to lose, Maud becomes a committed rebel, engaged in more daring activities with pharmacist Edith Ellyn (Helena Bonham Carter), a woman who organizes secret meetings.
Screenwriter Morgan works once more with top notch talents of Mulligan and Streep, both having starred previously in adaptations of her screenplays. This time around, Streep is more of a phantom figure, seldom making an appearance, popping up for a rousing display of rebellion as she makes an impassioned speech to a crowd of brave women. Likewise, other supporting characters portrayed by well-known performers are painted with the same broad strokes, like Helena Bonham Carter's Edith Ellyn, Romola Garai's Alice Haughton, or Ben Whishaw's doltish husband—all seem like approximations of types.
A venomous Brendan Gleeson as an unsympathetic inspector is also presented with little shading. However, Morgan crafts many actual instances and documented details into a tapestry that does manages to shock, even by today's desensitized standards. The sheer physical brutality waged against groups of outspoken women, not to mention the continuous sexual and emotional abuse is depicted with startling vehemence.
What Morgan ignores in multiple characterizations she makes up for in period detail, such as new technology of the period allowing authorities to begin photographic monitoring of these women. Shades of something like Paul Verhoeven's 1975 film Katie Tippel grace the laundry sweat-shop, but Gavron and Morgan provide us with the trajectories afforded regular looking women not afforded the decadent possibilities of the fantastical prostitution narrative. Although Natalie Press' depiction of Emily Wilding Davison, whose suicide under the feet of King George V's horse was splashed over global headlines and was the impetus for social change in her native country (although another decade would pass before that happened), Suffragette works best when it focuses on Anne-Marie Duff and Mulligan. Unfortunately, Mulligan's Maud is forced to don too many hats, an audience stand-in/grieving mother/sexual abuse victim/activist whose character development would seem overblown if it weren't for the tremendously appealing performance of Mulligan.
DoP Eduard Grau, who certainly knows how to create an evocative mood, whether that be the noir-ish A Single Shot (2013) or psychological color coded palettes required of Tom Ford's A Single Man (2009) provides us a muted and dreary turn-of-the century England while Alexander Desplat's score provides basic emotional support. Though one or two less personal tragedies for everywoman Maud would have made some of Suffragette feel less emotionally manipulative, the film does manage to be a powerful rally cry, evidence of the perseverance and sacrifice required from past generations and a reminder of inequality still to be quelled. As Streep's Emmeline Pankhurst rushes to close her lone speech, she cries "I'd rather be a rebel than a slave." Words to live by.
★★★/☆☆☆☆☆