Looking for Comedy in the Muslim World: Levinson's Afghan Exploration Prizes Diversion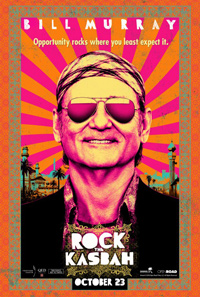 After a unique pit stop in found footage horror with 2012's The Bay and an underrated Philip Roth adaptation in 2014 with The Humbling, Barry Levinson returns to his particular predilection for boundary pushing, politically topical subject matters in Rock the Kasbah. It's a very loosely based version of the true account of Setara Hussainzada, a woman who sang on national television in Afghanistan's version of "American Idol," known as "Afghan Star," even though it's illegal for women to sing.
More along the lines of Levinson's Man of the Year (2006) than Wag the Dog (1997), as scripted by Mitch Glazer (his first excursion since 2010's appalling Passion Play), the title seems as woefully out-of-touch as it is unwarranted. Oddly unsympathetic, even as it depicts a subversive act of rebellion within a ruthlessly patriarchal and misogynistic culture, it's a superficial treatment on the prowl for cheap laughs and tone deaf to its own misguided scope.
Richie Lanz (Bill Murray) is a two-bit hustler of a music manager, full of tall tales about a glorious history representing major talents throughout several decades in the business. Currently, he handles Ronnie (Zooey Deschanel), a singer who moonlights as his secretary, but she's tired of performing cover songs at dive bars. But Richie stumbles upon the idea to fly Ronnie out to a USO tour in Afghanistan. No sooner do they step off the plane into Kabul does Ronnie realize what she's gotten herself into, so she manages to get herself smuggled out of the country with the help of a friendly mercenary (Bruce Willis). She also takes all of Richie's money, so he finds himself stranded with two doofy gun runners (Scott Caan, Danny McBride), whose shenanigans lead him into a village where he's brought into contact with a singer, Salima (Leem Lubany). Since it's against the law for Pashtun women to sing, she practices in a cave, where Richie finds her crooning Cat Stevens. With the help of Richie's love interest, local prostitute Merci (Kate Hudson), and trusty taxi driver Riza (Arian Moayed, whose cab is decorated with pictures of Tom Ford and Madonna, which might indicate a character detail that's been cut out) Richie stations Salima in Kabul and lands her an audition on "Afghan Star."
All attempts to reconcile its positive messages pertaining to the unifying, overriding power of music are hopelessly lost in translation, partly because Glazer and Levinson ignore characterizing Salima as anything more than a pretty face. Actress Leem Lubany seems much too polished for a young woman growing up under such restrictive circumstances. Not only is she never given an opportunity to bond with Murray onscreen, her emotional register seems limited to gentle awe.
Instead, the film focuses on the particular buffoonery of Murray's Richie Lanz, a showbiz charlatan out of Los Angeles whose ignorance of the dangerous situation he's placed himself and others in quickly becomes irritating. Murray's particular charm is dialed up to hyperdrive and he does land a laugh here and there. But then we're forced into watching his smarmy character develop a relationship with a Southern Belle prostitute played by Kate Hudson, tasked with the impossible feat of making a fantasy blonde bombshell into a romantic interest for Murray as she provides services to the local male population out of a trailer, steadfastly collecting a sizeable nest egg so she can jet off to Hawaii to open her own real estate firm.
The notion of a white woman fleecing the local men of war-torn Afghanistan seems intriguing, but the Fruit Loops gilded Hudson arrives with the usual clichés granted hookers with hearts of gold. Flouncing into a pool wearing all her clothes at a party, she proceeds to lure Murray into her net with an old standard about her sexual prowess, professing her skills for acts deemed illegal. Considering her occupation is, of itself, illegal in most places, unless she's talking about involving children or animals, Hudson's ironically named Merci (which means 'thanks' in French, but is used as a pun for its English sounding pronunciation) is merely a composite of lazy clichés.
In many instances, truth may be stranger than fiction, but Rock the Kasbah forgets to include the underlying humanity necessary to sell it to the audience as even remotely compelling. Sure, music does bring people together, across periods, cultures, etc. Though it's set in Iran, Bahman Ghobadi's 2009 film No One Knows about Persian Cats was a much more effective portrayal of repressed creativity. But Rock the Kasbah feels antiquated in its views of the Middle East, even patronizing.
Another recent example this year of the political power made possible by low-grade entertainment for the masses across the globe is Hany Abu-Assad's The Idol, which documents a young Palestinian boy winning "Arab Idol" in Israel, and as obsequiously corny as that film is, at least it has the good sense to convey the gravity of the situation. There is no tension in Rock the Kasbah, which only manages to convey the significant turmoil in Afghanistan in cartoonish light.
★★/☆☆☆☆☆