Pretend That We're Dead: Or – Two Dans, a Dano, and a Dead Body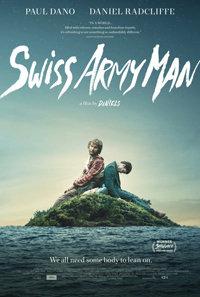 What is there to be said about a dramatic comedy built entirely around a suicidal wastrel and a flatulent, decaying corpse journeying through the wilderness providing emotional and physical support for one another? In the case of Swiss Army Man, the directorial debut of Daniel Kwan and Daniel Scheinert (credited as The Daniels), apparently a whole lot about a lack of commercial prospects, at least according to conversations sprouting from the film's premiere at the 2016 Sundance Film Festival where offended audiences reputedly fled the theater amidst a barrage of fart and masturbation jokes. But the film, which courts free comparison to everything from Cast Away to Weekend at Bernie's, is neither as crude nor adolescent as these widely publicized comments otherwise suggest. Rather, it's a strangely transfixing and poignant deliberation on social norms, friendship, and the unexplainable weirdness which sometimes makes life so sweet despite crushing, overwhelming disappointment. At times whimsical, but mostly melancholy and profound, its strangeness sometimes outweighs its potency, inspiring meditative contemplation rather than effusive deliberation suggested by the blatant use of taboo bodily functions.
Hank (Paul Dano) is stranded on a deserted island, and as he's about to hang himself, spies the beached body of a man (Daniel Radcliffe) in business suit. The man is clearly dead, his pronounced state of decay creating an abundance of flatulence. Hank has an epiphany and decides to harness these gaseuous eruptions as a means to escape. Riding the man like a jet ski, his explosive propulsion helps them return to the mainland and trek through the wilderness together. The man, who Hank names Manny, has forgotten everything about his old life, but a dying cell phone with a beautiful woman (Mary Elizabeth Winstead) pictured on it has Hank attempting to jog Manny's memory via various reenactments and anecdotes about life, which leads to Hank having a greater understanding of his own faults and desires.
As the two islands in the stream, Dano and Radcliffe are an amusing duo. We never learn why Hank is stranded or anything at all about Radcliffe's dead man. What's most impressive here is how Scheinert and Kwan manage to spin Dano's usual prevailing moroseness into something a bit more resonant, and taking it to an uncomfortable crescendo in its final, perplexing moments. As the source of deranged comic relief, Radcliffe gives us a wonderfully strange performance as a corpse whose memory has been wiped clean by death. His grunts, strained speech, and uncontrollable bodily functions (an alarmingly robust erection proves to be the 'special compass' guiding them home) aren't calibrated for vulgarity. Instead, there's an underlying sweetness, even tenderness to what the Daniels seem to be trying to convey. What appears to be a fecal stained copy of the Bible has been reconstituted (in a formidably appropriate fashion) as homage to the Japanese children's book Everybody Poops, underscoring the social mores which ultimately serve as barriers in human connection or communication. "If you can't fart in front of me, what else are you hiding?" bemoans Manny.
Though Swiss Army Man begins to suggest most of this is likely taking place in Hank's mind, his struggle to re-introduce the delights of life to Manny's atrophied memory (which mostly revolve around his fixation on a beautiful woman he sees on the bus) aligns the film with the same balance of the aberrant yet simultaneously beautiful exchanges shared between humans, like the idiosyncratic intimacies of a Hal Ashby or a Michel Gondry. A reenactment of a flirtatious attraction on the bus featuring Dano in makeshift drag is touching in a way words don't rightly describe.
The Daniels (who were responsible for the exquisite Lil John music video "Turn Down For What") have indeed managed something exceptional in creating a unique vision relying on emotion rather than quirkiness. Although it can rightly be described as gonzo, it's in a way which is always relatable, assuredly human. Assisting with much of the emotional heavy lifting is a pronounced, incredibly beneficial score from Andy Hull and Robert McDowell from Manchester Orchestra which streamlines itself diegetically into the film's aural fabric. Not so much life-affirming as it is about embracing and bluntly dealing with facets of ourselves we have been conditioned to repress or discreetly tuck away into corners no other human can see, like it or not, Swiss Army Man announces a creative duo clearly unafraid of offending or pandering to mainstream sensibility.
★★★/☆☆☆☆☆